Here you will find answers to common questions about using a VPN in China in 2020. Real answers from a real VPN user in China.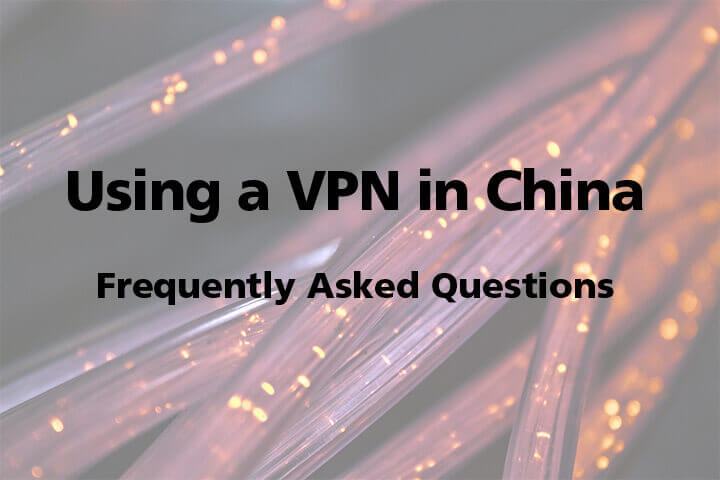 Are There any Free VPNs That Work in China?
There are various free VPNs that might work in China from time to time, but I do not recommend using any of them. The main problem with free China VPNs is that they get blocked much easier than paid VPNs. They will always stop working after a while (if they even work in the first place).
The other problem with free VPNs is that they are terrible for privacy. It costs money to run a VPN service, so why would any company offer this for free? The answer is that they usually make money by selling your browsing data to third parties, or worse. There is a famous saying "if you don't pay for the product then you are the product".
If the cost is a concern for you, you can always cycle through the free trials and money back guarantees of paid VPNs (just remember to cancel before the free trial or money back guarantee period ends).
If you insist on using a free China VPN, here are some options that you can look into, which may or may not work.
Lantern (peer-to-peer proxy network)
Hotspot Shield (limited to 500MB per day)
Freebrowser (Android browser app with built in circumvention)
Psiphon
Protonvpn
Which VPNs should be avoided in China?
Besides free VPNs, here are some paid VPN services that are not recommended for China.
Astrill
I don't recommend Astrill because of their poor customer service, unstable VPN service, and discriminatory policies towards customers in China.
If you sign up outside of China (without using another VPN), then Astrill offers a 7 day free trial.
However, Astrill does not offer the free trial if you sign up in China (they don't offer a money back guarantee either).
Full Disclosure – Astrill deleted my affiliate account after I published the blog post about not offering the free trial to customers in China. That was in 2016 and I haven't used Astrill since then. So I honestly couldn't tell you how it's working today. Given the history of the way the treat their customers, I don't plan to ever try it again.
StrongVPN
StrongVPN was rated #3 on this page once upon a time. Although their apps and user interface was the worst I have ever seen, they did have 1 selling point. That was the Hong Kong servers, which had good peering to China Telecom (PCCW network).
However, those Hong Kong servers disappeared one day, later they were replaced with inferior servers with poor routing to China Telecom. Now there is no reason to use StrongVPN in China.
PureVPN
This is probably the worst VPN that I have ever tested in the history of this website. Terrible apps, even worse support, and extremely unstable performance. They also handed over log files to the FBI to assist in an investigation.
Even if you are not using it in China, stay away from PureVPN.
Private Internet Access (PIA)
I tested PIA after seeing this YouTube video from Linus Tech Tips. At the end of the video, he recommended using PIA in China, and claimed to be using it himself in Shenzhen, where he shot the video.
When I tested PIA (extensively) around the time that this video was released, I was unable to get even a single working connection. I tried every protocol available and sent a support ticket for further troubleshooting steps.
Determined to get a connection, I took things 1 step further. I got all of their server IPs by entering the hostnames into the OpenDNS CacheCheck website, and then batch pinged every single IP using a special software I have. Every one of their server IPs was blocked in China.
My only conclusion from this is that Linus Tech Tips is a liar. He was likely roaming with a foreign SIM card when he connected to PIA for his video.
Don't get me wrong, PIA seems like a great VPN service. It's just not one that works in China.
Chinese based VPNs

It's illegal to operate a VPN service in China and these are the ones that will be targeted by the government the most.
When choosing a VPN, always choose one that is incorporated outside of China.
What are the best VPN discounts / coupon codes available on Tips for China?
The ones shown on the sidebar are the best ones. The sidebar is on the right side of the page if you are using a desktop browser, or on the bottom of the page if you are using a mobile device or tablet.
Additional special offers can be found on the VPN discounts and coupon codes page.
Should I buy a VPN and download the apps before I come to China?
If you have the choice, then I always recommend that you buy a VPN service and download the apps on all your devices before coming to China.
There are 2 reasons for this.
1. You want to make sure that everything is working properly outside of China. Otherwise, if you have problems connecting in China, you won't know if the problem is related to being in China or not.
2. Although the China VPN mirror websites are usually accessible from China, they do go down from time to time. There is no guarantee that will be working when you are here. Better to be safe than sorry.
Should I buy more than 1 VPN to use in China?
If you really need fast and reliable internet, then yes, you should. In fact, I regularly use at least 3 different VPN services in addition to the ones I test for this website. No VPN service is guaranteed to work 100% of time in China. You should always have at least 1 backup.
Is it illegal to use a VPN in China to access blocked websites?
This is a controversial question. Although it is illegal to operate an un-registered VPN business in China, there is no specific law against individuals using an overseas-based VPN.
What you do after you connect to the VPN is another matter. If you are using a VPN to spread political messages or cause trouble for the government, then you may be breaking other laws. But connecting to a VPN, in and of itself, is not illegal.
Recently, there have been a few cases of individual users given fines or warnings for using a VPN. However, I think there is more to these cases than is being reported. These few individuals likely did something to catch the attention of the authorities. Such as posting negative news about the government on Twitter or something like this.
So far there have only been a handful of cases of individual users punished for using a VPN in China. None of these cases involved foreigners, and the most serious punishment was a 1,000 CNY ($150 USD) fine. So I wouldn't worry about it at all.
If you are just using a VPN to watch YouTube or Netflix, or browse Facebook, then you have nothing to worry about, you are not doing anything illegal.
As for the legality of overseas-based VPNs offering their services to Chinese customers, that is more of a grey area. Technically, these companies cannot legally sell their services in China. But then again, they do not have operations, servers, or staff in China. Therefore, they are under no obligation to comply with Chinese laws. The Chinese government can try stop people from buying and using these services, but that's about all they can do.
As of now, it's still possible to buy most VPN services using Alipay, WeChat Pay, or Union pay. If the government really wanted to put an end to overseas VPN companies selling their services in users in China, then it wouldn't be possible to pay for these services using these payment methods.
If it's not illegal to use a VPN in China, then why does the government block them?
China could very easily completely block all VPN traffic if they really wanted to. The level of tolerance for VPNs from the government, at any given time, is a balance between controlling the flow of information, being friendly to foreign investors and companies, and collateral damage (increased filtering of traffic makes normal foreign websites slower in China).
On one hand, the government does not want their own citizens to have free access to the internet for obvious reasons that I won't go into here.
On the other hand, they must allow some VPN traffic so foreign companies to access their corporate networks. Besides commercial VPN services, some companies use corporate VPNs to securely connect the networks of their offices around the world.
They also don't want to slow down normal foreign websites too much (the ones that are not blocked). Foreign websites are already painfully slow in China when accessed without a VPN.
Although the government will block VPN servers more aggressively during sensitive political meetings or anniversaries, they will never completely block all VPNs.
Is it possible to watch Netflix in China with a VPN?
China is one of the few places on earth where Netflix is not available. However, it is possible to watch Netflix in China with a VPN.
Apple has removed all of the VPN apps from the China App Store. How can I download them from China?
It's pretty simple. You just need to create another iTunes account using a USA address. The apps are not actually blocked from being downloaded in China, they are only restricted based on the country of your iTunes account (a type of self-censorship by Apple).
Are there any VPN alternatives that work to access blocked websites in China?
Shadowsocks is good alternative to a traditional VPN. It is a SOCKS5 web web proxy that offers very fast connections, but does have some limitations compared to a VPN.
When it comes to Shadowsocks, you have 2 options.
If you are technically inclined, you can set up your own Shadowsocks server on a VPS.
Or you can subscribe to a paid Shadowsocks service, which is much easier to use and offers more servers to connect to.
Another VPN alternative is to use data roaming if you have a mobile phone plan from outside of mainland China. When you use data roaming, your data is sent back to your home country first before going out to the internet. So this is another way to bypass the Great Firewall of China.
If you have a US mailing address to receive the SIM card, Google Fi is a great option. What I like about Fi is that there is no extra charge for data roaming, you can get up to 10 extra data only SIM cards for free, and you can pause the service any time you aren't using it.
If you want to try it, use my Google Fi referral link and we will both get a $20 billing credit.
Personally, I am mostly using my Fi service in the US and Canada (the data is actually cheaper than Canadian prepaid SIM cards). Although I have tested it out in China, I leave the service paused most of the time because my VPNs work fine and data is much cheaper with a local SIM. But it's good to know I can pop the SIM card in my phone and resume the service any time that I might need it.
Tip for Fi users in China – You can roam with both China Mobile and China Unicom. China Unicom works better, but China Mobile is usually selected by default. You can manually select China Unicom in your network settings for better performance.
I have more VPN questions. How can I find answers?
If you have additional questions about using a VPN in China, leave a comment below. Or if you are on Reddit you can ask your question on r/VPNChina.
Share this page
If you found anything useful here, please share this page. Remember, friends don't let friends use inferior VPN services.