Recently, Apple has removed all VPN apps from the China App Store. But there is a workaround to get these apps installed on your iOS in China!
So, what can you do to download the VPN if you are in China?
The answer is quite simple actually. The restriction can be bypassed by using a new iTunes account registered with a USA address.
Although you can download any app without using a VPN, most of the apps that you download will require a VPN that works well in China in order to function properly. For example, the New York Times app can be downloaded without a VPN by following this method. However, the app itself will not function because the New York Times servers are blocked in China.
Ok, here is how to create a brand new USA iTunes account.
It's not possible to change the country of your existing Apple ID without adding a credit card from the country you want to change to. However you can create a brand new Apple ID for any country you want without adding a credit card. In fact you can make a new account for each country's App Store that you want to use. Just choose which account to log into depending on which Apps you need to download or update. Here are the steps I followed to create a new Apple ID for United States.
Step 1 – Go to this page from a computer and create a new Apple ID with an email address that has not already been used for another Apple ID.
Step 2 – On your iOS device, open the Settings and choose iTunes & App Store, then select your current account and log out.
Step 3 – Open the App Store and try to download any App. When prompted, log in using your newly created iTunes account.
Step 4 – You will be prompted that the Apple ID has not yet been used in the iTunes Store. Choose Review.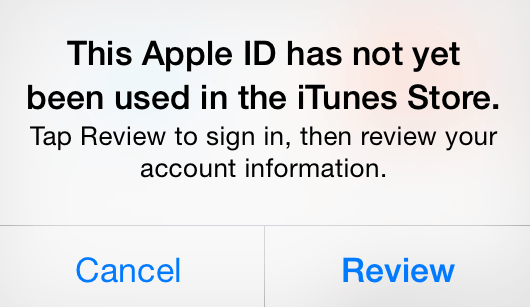 Step 5 – Choose United States or other preferred country.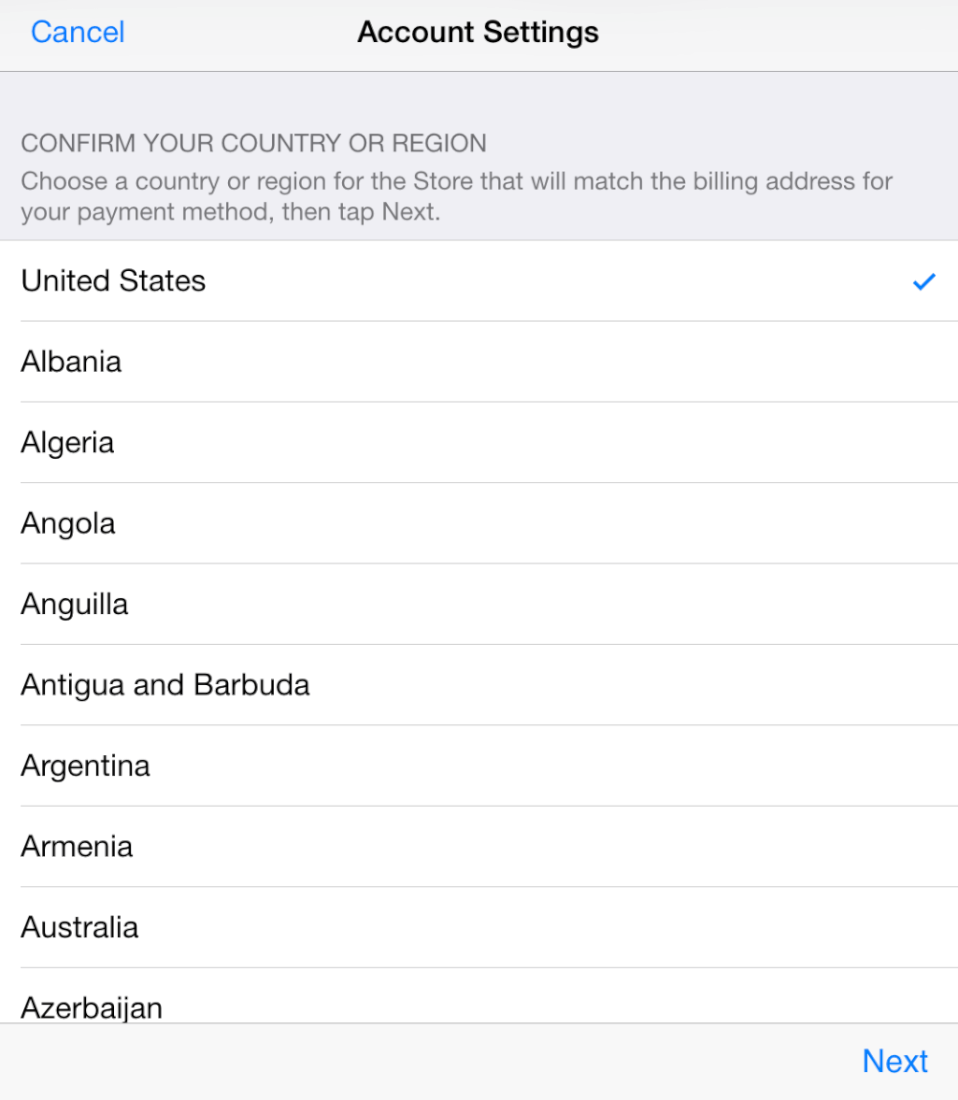 Step 6 – Scroll all the way down to the bottom of this extremely long agreement and choose agree. Take a rest if your finger gets tired before you reach the bottom. It feels like about 1,000 pages.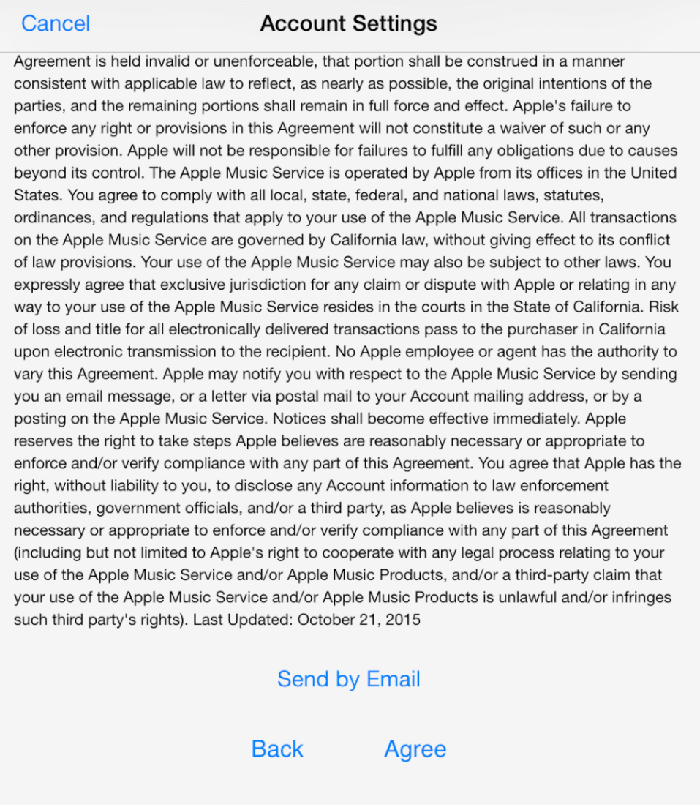 Step 7 – Under Billing Information choose None and then enter any US address and phone number. You can use this website to generate one.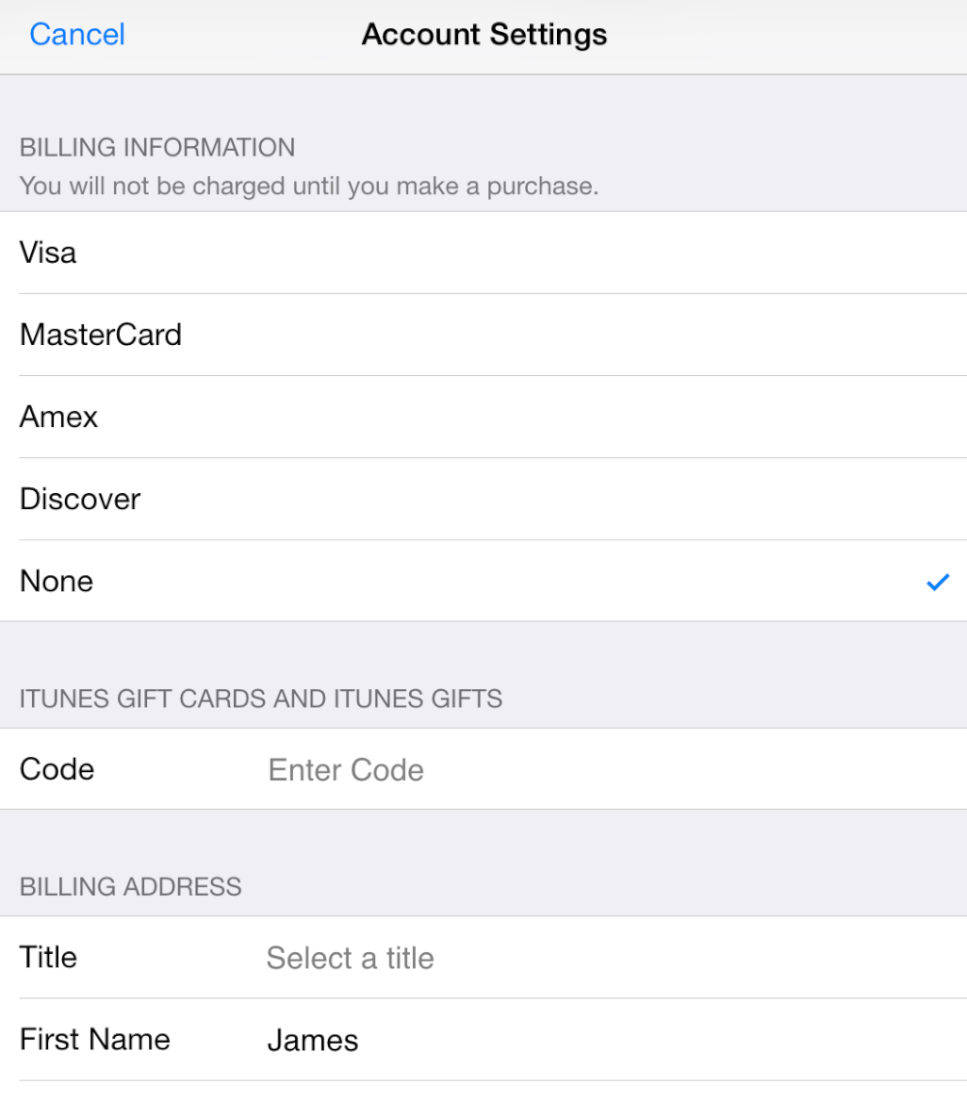 2018 Update – Apple has now made it more difficult to confirm your account if you are not located in the same country as the iTunes account you are trying to make.
If you don't see any option for None under billing information, then you will need to connect to a VPN in the USA and try again. If your IP address is not in USA and you are trying to make a US account, then the None option will not be there and you will need to use a credit card.
If you don't already have a VPN app installed on your device, then this can be difficult. Classic chicken and egg type problem. The solution is to connect by L2TP using the iOS built-in VPN. Check with your VPN provider for specific instructions on setting up L2TP on iOS.
I know that ExpressVPN L2TP is working in China because I tested it recently, but I'm not sure whether other provider's L2TP servers are working in China right now. Please leave a comment below if you have used L2TP in iOS in China recently.
Another option is to buy a visa gift card on Taobao and confirm your account that way. Search for "美国visa卡", there are many sellers offering these.
Step 8 – When you are finished downloading the Apps from United States App Store, just simply log out of the new account and log back into your original account if you need to download Apps from the China store which are not available on the USA app store.
You can always switch between accounts to download different apps.
Notes
If you have previously downloaded apps from the China App Store that have been removed, then it's not possible to update these apps anymore. To update, you need to uninstall the app first, and then re-download it using your USA iTunes account.
If you need to buy a paid app from the USA store but don't have a US credit card, you can buy a US iTunes gift card on Taobao for a reasonable price (the link is just to the search results, not any individual seller – do your own research and buy from a reputable seller with higher sales volume).