Surfshark is one of the best VPN deals that you will find anywhere.
Surfshark 2 Year Deal
Get 2 Years of Surfshark for only $59
Ok, so it's a great deal. But here is the big question…
Does Surfshark VPN work in China?
Yes, kind of, but it's complicated.
Surfshark used to work very well in China with the Shadowsocks protocol. However, they recently discontinued support for Shadowsocks leaving many China users frustrated.
Although the Surfshark Apps may work in China from time to time, it is very hit and miss. In fact, I find that using manual OpenVPN is much more reliable.
However, it does require some manual set up which is not easy for many people.
Surfshark Alternatives that work in China
If you are looking for a more user-friendly VPN to use in China, here are some suggested Surfshark alternatives.
If you are not yet in China, ExpressVPN is the best alternative.
Special Offer for ExpressVPN
Get an additional 3 months free with the annual plan (15 months total). This brings the price down to $6.67 per month for the annual plan.
The problem with ExpressVPN is that they are no longer offering a China accessible website to sign up from if you are in China. So make sure you sign up and download the apps to all your devices before you arrive in China!
If you are already in China and really want to sign up for ExpressVPN, you will need to use another VPN first to access the ExpressVPN website in order to sign up and download the apps. Just make sure you turn off the other VPN before connecting to ExpressVPN.
If you are in China and don't want to mess around with a second VPN to sign up for ExpressVPN, the best alternative is Wannaflix.
Special Offer for WannaFlix
30% OFF your first billing cycle (valid for all plans)
Signing up to Wannaflix if you are already in China is not a problem because they offer a special alternative website just for that purpose!
Wannaflix is not a traditional VPN. They are using a protocol called V2ray which is a proxy protocol that has become the successor to Shadowsocks. Although it's not as secure as a traditional VPN, it is very fast and efficient at bypassing the Great Firewall of China (less detectable compared to traditional VPNs or even compared to Shadowsocks).
How to set up Surfshark Manual OpenVPN in China
If you have read this far and still want to try using Surfshark in China, here is my preferred method.
You could always try the Apps first if you want, but doing so will just leave you frustrated in my opinion.
The best and most reliable method of connecting to Surfshark VPN in China is by using Manual OpenVPN files with hard coded IP addresses. Here is my guide on how to do that.
Step 1 – Get your OpenVPN credentials from the Surfshark website
Open the Surfshark website and log into your account
If you are in China, you can use this alternative link to access the Surfshark website.
Once you are logged in, click on Manual setup under the VPN heading, then choose Manual, then Credentials as shown below.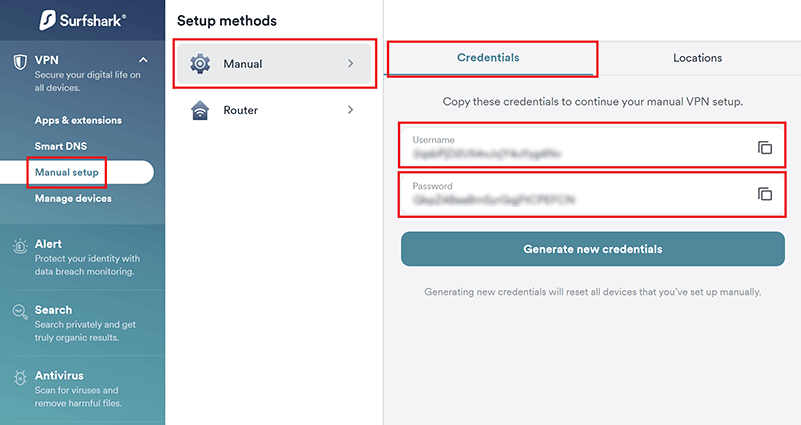 Here you will need to copy your Username and Password. Save these somewhere that you can easily access them. You will need to copy and paste these for every connection profile that you set up when you first try connecting.
Step 2 – Make a list of server hostnames
Now that you have your credentials (username and password) saved, make a list of server hostnames for locations that you want to connect to. Click on the Locations heading beside Credentials.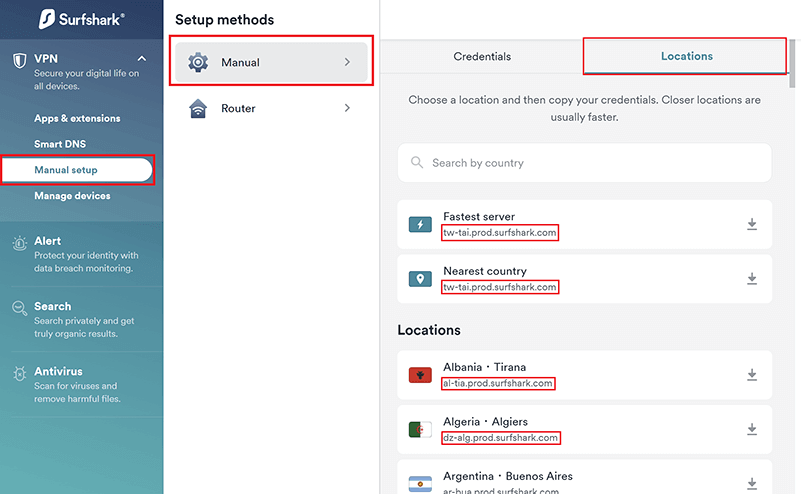 Each location has a hostname shown under the Country/City name. For example, Albania is al-tia.prod.surfshark.com. Algeria is dz-alg.prod.surfshark.com. The "fastest server" and "nearest country" are both tw-tai.prod.surfshark.com, which is the hostname for Taiwan.
Don't pay too much attention to the "fastest server" and "nearest country" if you are in China. Due to the way China ISPs route traffic, these are often not accurate.
Copying these hostnames can be tricky because a javascript windows pops up asking you to download the UDP and TCP files once you release the left mouse button after selecting the text. The trick is to press Ctrl+C to copy the name while the text is highlighted, but before you release the left mouse button.
If you are having trouble copying the hostnames, you can also download the UDP or TCP .ovpn file, open the file in a text editor, and then copy the name from there. You will find it on the 3rd or 4th line after the word "remote".
Build up a good list of hostnames because not all locations will work in China.
Step 3 – Download a sample UDP and TCP file
It doesn't mater which location you choose, you just need 1 UDP and 1 TCP file to use as a template to start with. The files for each location are the same, the only difference is the hostname which we will delete and replace with an IP address later.
To download the files, just click on any of the locations and then click Download TCP and Download UDP. Save the 2 .ovpn files on your computer.
Step 4 – Find IP addresses that are not blocked in China
This is the tricky part. If you don't want to do this yourself, you could check the bottom of this page for some recommended IPs that I found to be working the last time this page was updated.
To find working IPs, choose a server hostname that you collected in Step 3 and paste it into the OpenDNS CacheCheck website.
For example, here are the results for the USA – Seattle location (hostname us-sea.prod.surfshark.com)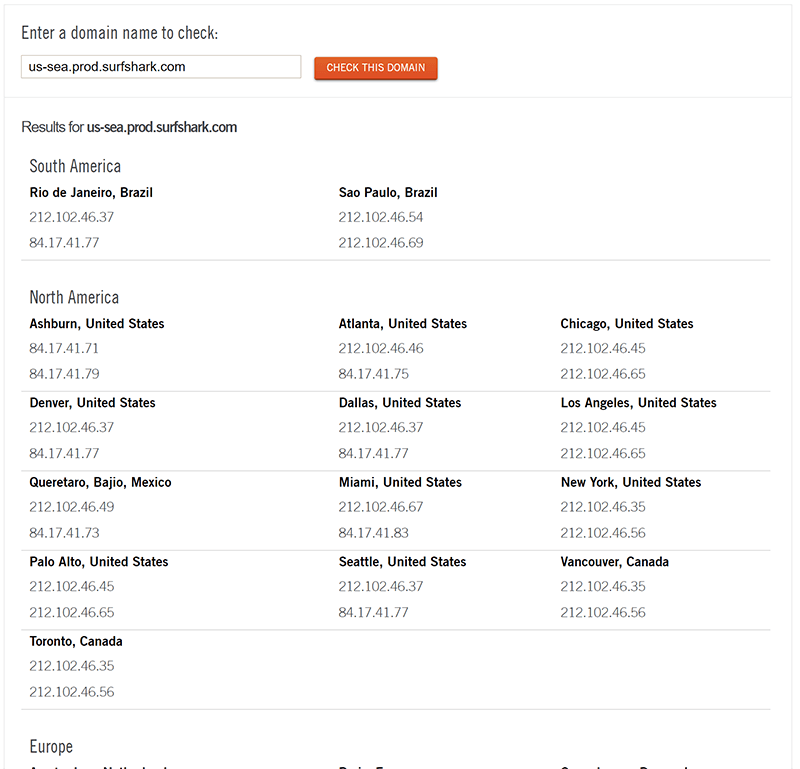 You will find many different IP addresses here, some are duplicates. You will have to go through and find ones that are not blocked in China.
You can check if the IP is blocked in China by sending a ping command. Make sure to turn off any existing VPN connections because you need to ping directly from China.
If you don't know how to send a ping command, refer to this article for instructions.
If the IP is not blocked in China, your ping result will look like this.

If the IP is blocked in China, then your ping result will look like this.

If you are not yet in China, or using a mobile device, or don't want to send ping commands there is an alternative. You can check the IP addresses on the ping.pe website.
If an IP address is blocked in China, you will see 100% packet loss from the mainland China locations, as shown below.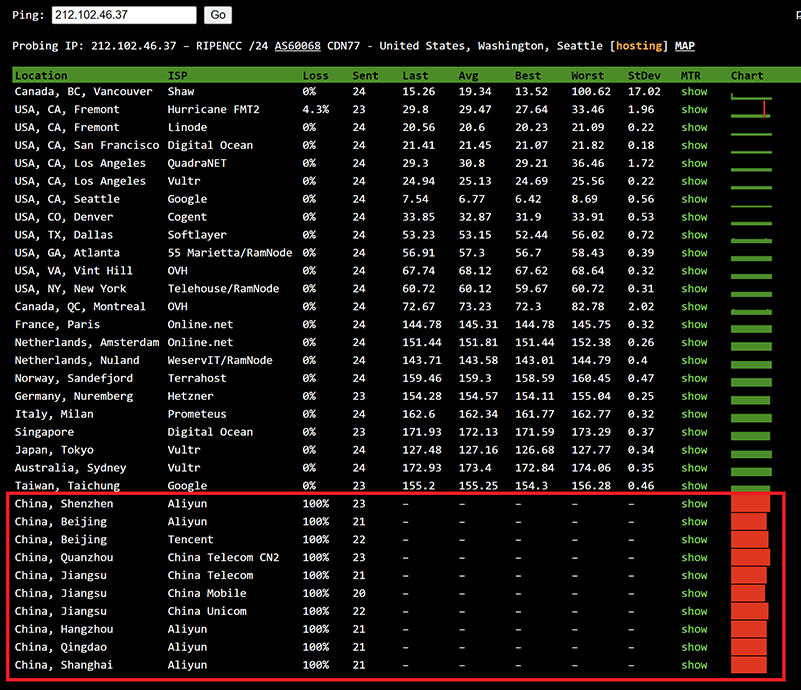 If the IP is not blocked in China, then you will see packet loss under 100%, as shown below.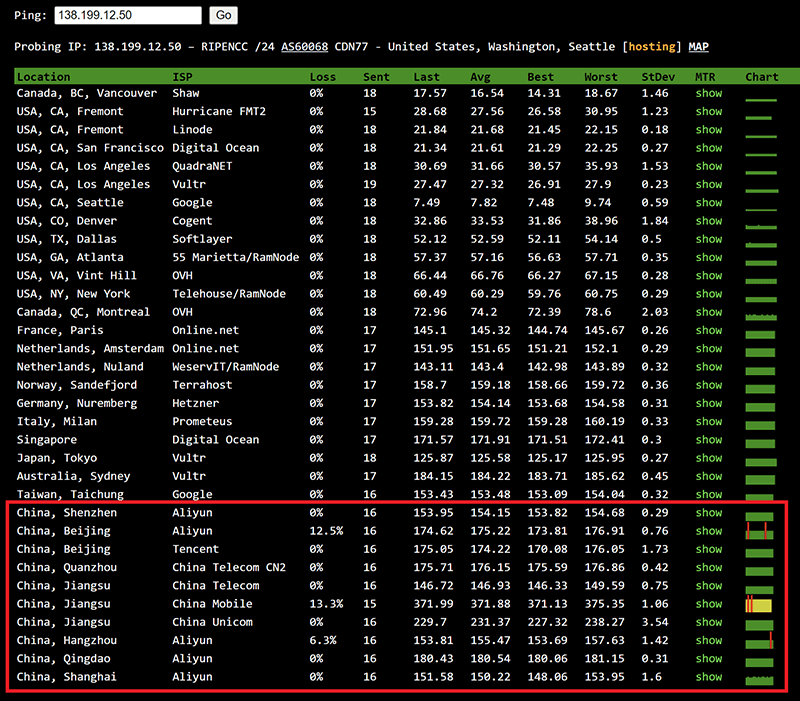 In China some packet loss is normal so don't be worried if the packet loss is not 0%. As long as it's not 100% then the IP is not blocked.
The lower the ping time, the better. Try to find server IPs with a low ping time. It's always better to ping directly from your ISP in China if you can because the ping time shown on ping.pe results will not be the same as your actual ping.
Build a list of all the IPs that respond to a ping. It's possible that some IPs will respond to ping but still not work, so try to find as many as possible before going to the next step.
In this example for Seattle, there was a total of 24 unique IP addresses for the us-sea.prod.surfshark.com hostname. Of those 24, I found that 17 were blocked and 7 were not blocked.
To illustrate the next steps I will use the 138.199.12.50 IP address, which was 1 of the 7 unblocked IPs.
Step 5 – Create your OpenVPN config files
Open one of the .ovpn files that you downloaded in Step 3. I will use UDP in this example but you can also do the same steps for TCP. In general UDP will give you faster speeds but sometimes TCP can work better on certain networks.
After opening one of those files, make the following 2 changes.
If you are using Windows 10, add an additional line with the text block-outside-dns. If you are not using Windows 10+ then you can skip this step.
Replace the hostname with an IP address from your list in Step 3.
For example, here is the original UDP file downloaded from the Surfshark website.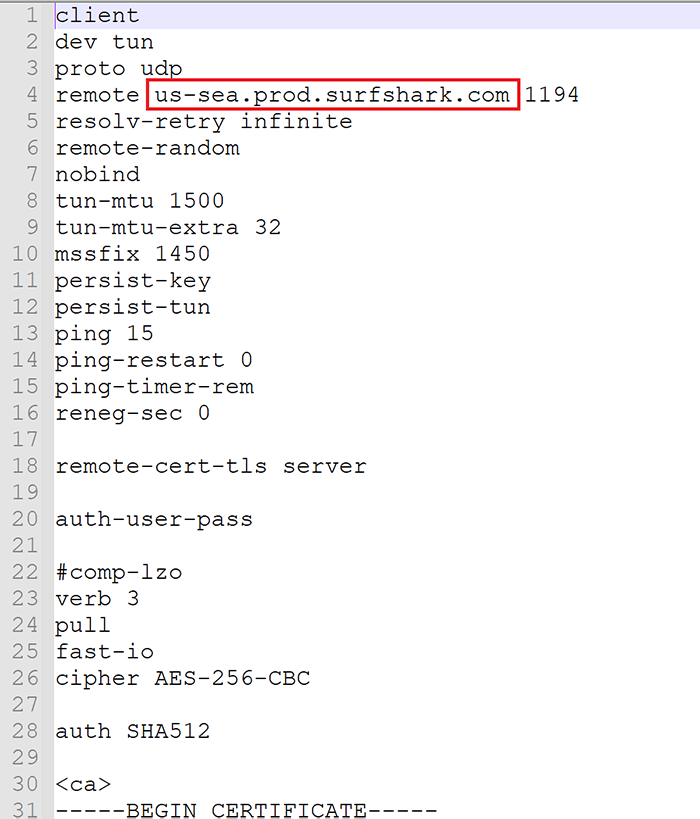 After making the changes, here is what the file should look like.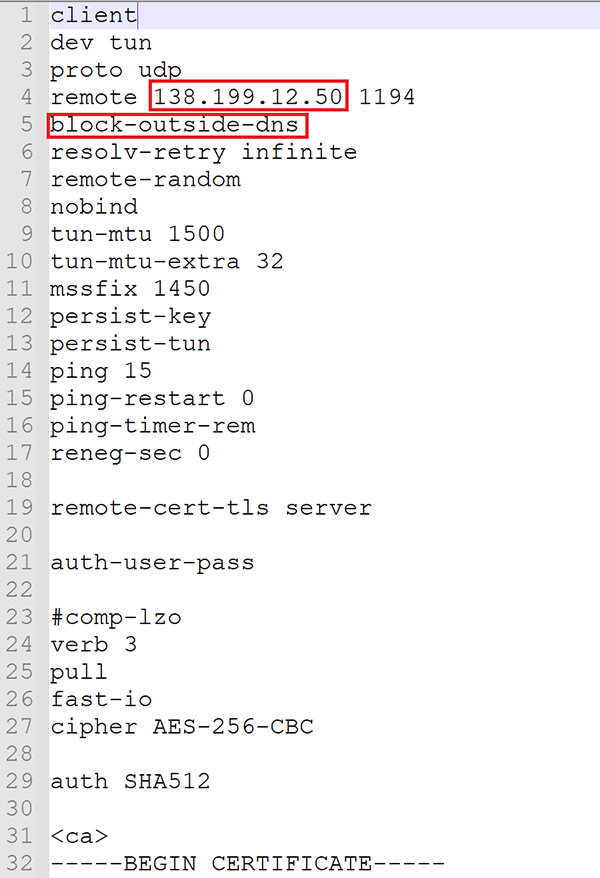 Now that you have made the changes, save as a new file and give it a name to identify it by. For example, you could call it "Surfshark-Seattle-UDP-custom-IP.ovpn".
Make sure that the file extension is .ovpn. Some text editing programs may add .txt to the end of the file. If that happens you will need to edit the file name to remove the .txt at the end.
Now change the IP address in the file to a new one from your list and save it again with a new name. Make 1 UDP file and 1 TCP file for each IP that you found in Step 4.
Step 6 – Install OpenVPN and import your files
Here are the links for the relevant apps for different platforms.
Windows
Alternatively, you can download the client using the links below if you are in China and cannot access the OpenVPN website.
Download OpenVPN GUI v2.5.0 for 64bit Version
Download OpenVPN GUI v2.5.0 32bit Version
Mac OS
If you are in China without another VPN, you can download Tunnelblick using the link below.
Android
OpenVPN for Android (alternative)
If you are in China without another VPN and cannot access the Play Store, download the OpenVPN for Android by Arne Schwabe app below.
Download OpenVPN for Android by Arne Schwabe v0.7.21
iPhone and iPad (iOS)
If you don't see this app in the App Store then your Apple ID is probably tied to a Chinese address. Follow these instructions to access the US version of the App Store in China.
If you are not sure how to use these apps, you can follow the guides on the Surfshark website, just remember to use your .ovpn config files created in Step 5 instead of the ones downloaded directly from the Surfshark website.
Remember to enter your credentials from Step 1 the first time you connect to each location (you can choose to save your credentials so you don't have to enter them every time).
You can also check my guide on how to set up manual OpenVPN with ExpressVPN for reference. In that guide I go into more details on how to use the different apps.
Tips for using OpenVPN connections on Android and iOS Devices
The easiest way to edit the OpenVPN config file is to download the file on a computer, make the edits, save the file, then transfer it to your device (for iOS you can email it to yourself because transferring by USB doesn't seem to work).
Alternatively, if you don't have a computer available, you can use a text editing app to edit the file directly on your device.
For iOS, I recommend the Documents by Readdle app. First install both the OpenVPN Connect app and the Documents by Readdle app. Then download the OpenVPN config file from the Surfshark website using Safari. Instead of Opening it with OpenVPN, choose "More…", and then choose "Copy to Documents". This will open the file in the Documents by Readdle app. After you you make the edits, tap the … symbol in the top right and then choose Share. Then choose "Copy to OpenVPN".
Android is much easier to work with, so you don't need to follow specific steps like you do with iOS. There are many text editing apps available for Android that will work. Personally, I like the Just Notepad app.
Simply download the config file to your Android device, edit it with any text editing app, save it to your device, then import it into the OpenVPN Connect app.
Surfshark Working IP Addresses (Feb 13, 2022 updated)
In order to save you some time hunting for IP addresses that are working in China, I will list a few here and try to keep the list updated as best I can. If you find that any of these are no longer working, please leave a comment.
USA Seattle
138.199.12.50
212.102.46.39
Canada Vancouver
104.200.132.35
107.181.177.179
198.8.92.74
208.78.41.200
66.115.147.82
Taiwan
103.152.151.67
2.58.241.3
Japan Tokyo
138.199.22.148
89.187.160.132