What is the best VPN to use in China? As someone who has lived in China since 2005 and uses VPNs every day, this is a question that I am qualified to answer. Here are the top VPNs for China that are still working well in July 2021.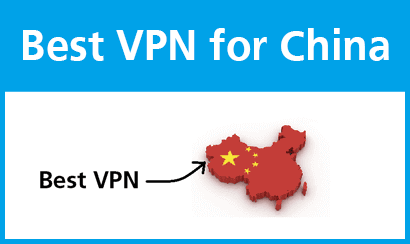 Latest China VPN Updates
China's VPN crackdown has caused most VPNs to stop working recently. Most websites have out of date information. Don't trust VPN recommendations from people who don't live in China, because the situation is always changing. Get the real situation on China VPNs from a real VPN user in China.
If you would like to see hard evidence to back up my claims, check the all of the VPN speed tests I have done in China over the years.
Every VPN service shown here is available with either a free trial or a money back guarantee, so you can try all of them risk-free. You will also find the best available discount offers for new customers here.
Top 3 Best VPNs for China
Monthly Price
(paid monthly)
$9.97
$11.95
$10.99
Monthly Price
(paid annually)
$6.99
$6.99
$5.99
Tips for China
Special Discount
30% OFF
Check Latest Offers
25% OFF
Recommended for Privacy
(P2P, Torrenting, etc)
Netflix Supported
Fast Speed in China
# of Devices
(simultaneous connections)*
5
6
No limit
Money Back Guarantee
30 day money back guarantee

30 day money back guarantee

14 day money back guarantee

* Note about simultaneous connections. You can install the VPN apps on as many devices as you want. The simultaneous connection limit only applies to how many devices you can connect at the same time.
#1 VPN for China – WannaFlix (Shadowsocks/V2Ray)
Although it's technically a proxy, not a VPN, I have to give WannaFlix the number #1 spot because the speed and reliability is so far beyond any traditional VPN.
Tips for Using WannaFlix in China
WannaFlix made a wise decision to move most of their servers from Shadowsocks to V2ray recently. Shadowsocks now gets detected and blocked very easily in China, but the WannaFlix V2ray servers have been fast and stable this whole time.
WannaFlix also has an in-house protocol based on OpenVPN called Eclipse. Although the speed is not as fast as V2ray, it's a great option if you need a full VPN instead of a proxy.
If you are having trouble with WannaFlix, the fastest way to get support is by joining their Telegram group (link available in the client area of the website).
What I like about WannaFlix
The speed. It's not really fair to compare the speed of a proxy to a VPN. The protocols used by WannaFlix (Shadowsocks and V2ray) are much faster than any traditional VPN.
The development work. WannaFlix is very committed to the China VPN market. They are always working hard to develop new technology (Eclipse) or make other improvements (switching from Shadowsocks to V2ray for example). Recently they also updated their website to make it load faster in China when accessed without a VPN.
VPN into China. WannaFlix is offering a server in mainland China that enables access to Chinese geo-restricted services such as QQ Music, iQiYi, etc from outside of China. This is a very hard to find feature of a VPN these days.
What I don't like about WannaFlix
The ease of use. The website can be confusing to navigate and the set up process is a little more difficult than the average VPN. You need to download various third party apps and paste in special API links copied from the website to pull a server list. For iOS, you need to log into a special iTunes account to get the Shadowrocket app (or you can purchase it for $3 in your own account).
Limited payment options. WannaFlix does not currently accept credit card payments. Hopefully this will be added soon. In the meantime, you can pay with PayPal, Alipay, Union Pay, and Bitcoin.
WannaFlix Special Offer
Visit WannaFlix and save 30% off any plan
#2 VPN for China – NordVPN
Tips for Using NordVPN in China
The newest versions of the apps should be working in China. If not, then you will need to download special OpenVPN config files from the support article called "Connecting from a country with internet restrictions".
To find this page, open the NordVPN website, click on the help icon in the lower right hand side of the page, then choose this article from the list. If you don't see the help icon, you may have to disable your ad-blocker.
What I like about NordVPN
The special offers. NordVPN is usually offering some kind of deal for a 2 year or 3 year plan.
The Jurisdiction and logging policies. NordVPN is based in Panama, which is completely outside of the "fourteen eyes" countries. They also don't keep any kind of logs, not even connection/session logs.
The 30 day money back guarantee. You can try it risk-free for 30 days.
What I don't like about NordVPN
Server performance. The speed of NordVPN servers in China can be on the slower side. If you're looking to stream 1080p video then this might not be the VPN for you.
NordVPN Special Offer
Visit NordVPN and get 3 years for $125.64 ($3.49/month)
#3 VPN for China – 12VPN
Although not my personal favorite, 12VPN does have some nice features.
What I like about 12VPN
The premium add-on servers. In addition to the standard servers, you can assign an additional 5 premium servers to your account. These servers offer premium China bandwidth, so you should definitely use them for faster connections from China.
Shadowsocks. Yet another option for Shadowsocks.
Other alternative protocols. In addition to Shadowsocks, 12VPN also offers all the latest protocols that work good in China such as Outline, WireGuard, v2Ray, and Openconnect.
Good support. Based in Hong Kong, 12VPN knows the China market very well. They seem to have some staff located in mainland China, so they know very well what protocols and configurations work well in China.
Their customer support is pretty good too. I usually get my emails answered within 1 hour during day time hours in China, and the quality of the support is good. It is often the owner of the service who responds to my emails rather than some low level employee using a script to answer questions.
What I don't like about 12VPN
The lack of VPN connection options. The service offered by 12VPN is more geared towards proxy instead of VPN connections. The connection options available in their dedicated app are different kinds of proxies, not a single VPN connection option.
This is ironic, because the name of their software is called "VPNGUI". I think the should change the name to "ProxyGUI" or something similar to more accurately reflect the type of service offered.
They do offer VPN connections through some third party apps such as Cisco Anyconnect (Mac and iOS) and SoftEther (Windows). However, support for these protocols is limited and the premium servers are restricted from using these protocols.
The logging policy (or lack thereof). I have searched all over the 12VPN website but I cannot find anything about their logging policy. Nothing in the FAQ or TOS pages. In this case, I have to assume the worst case.
12VPN is definitely not a privacy-focused VPN service. Instead, they are targeting the market of users in China who only use a VPN for accessing blocked websites.
The restrictive money back guarantee. The money back guarantee comes with quite a few strings attached.

You are entitled to a full refund if all of the following apply:


* You claim your refund within 14 days of your order date.
* It is the first order made on your account (e.g. renewals do not qualify).
* You have fully complied with our Acceptable Use Policy and our Terms of Service.
* You send an e-mail to support@12vpn.com or use the Support section on our website to request your cancelation.
* You have used less than 5GB of bandwidth.
* You have not previously claimed a refund from us under this policy (e.g. for another account).
* Apply for the refund by contacting support@12vpn.com.
The condition that I highlighted above is the one that concerns me. 5GB is a very small amount of data. I assume they mean 5GB of data, as "5GB of bandwidth" doesn't make any sense. Bandwidth is a measurement of speed (data transfer over time, usually quoted in Mbps or MB/s).
Anyway, you will need to be very careful not to use 12VPN too much when testing it. Otherwise, you will not be eligible for the money back guarantee.
If you want a proper money back guarantee, then you can try WannaFlix, NordVPN, or Surfshark for 30 days, without any limit on how much data or bandwidth you can use.
12VPN Special Offer
Visit 12VPN and save 25% off your first billing cycle
More VPN Options for China
The above 3 are my personal top recommendations and the ones that I use on a day to day basis. What I consider to be the best may not be the same for you. Here are some more China VPN options to consider.
#4 VPN for China – VPN.ac
Although VPN.ac still works fairly well in China, the performance has seriously deteriorated recently. I used to get much faster speeds than I do these days. I think their servers have become overloaded.
What I like about VPN.ac
The video streaming. A great feature of VPN.ac is an unofficial and unadvertised feature that I stumbled upon. I don't know how it works exactly, but I can watch any geo-restricted content no matter which server location I connected to.
For example, I can connect to a server in Hong Kong and still watch BBC iPlayer (UK), Channel 4 (UK), Hulu (US), etc. There is no need to change servers to match the country of the service you want to watch. Most streaming servers just seem to work, as if by magic.
Privacy, security, and torrenting. If you are concerned about security and privacy, then VPN.ac is a very good choice. Their DNS servers are private and secure, all DNS queries are sent to their private revolvers and encrypted with AES 128-bit encryption. They don't keep any traffic logs, and they allow torrents on all servers. They even have some special servers optimized for P2P.
VPN.ac is offered by a company called Netsec Interactive Solutions based in Romania. This company has been in the business of online security and privacy since 2009. You may wonder how a company based in the EU can get away with not keeping activity logs of their VPN users. The answer is that the EU Data Retention Directive was declared unconstitutional by the Romanian Constitutional Court.
WireGuard. VPN.ac is one of the first and few VPN providers to offer the new WireGuard protocol.
What I don't like about VPN.ac
The apps. The Windows and Android apps have a few bugs and are not updated as often as the apps of bigger VPN providers.
The main complaint I have with the Windows app is that sometimes the "China Users" server list fails to load (VPN.ac has special servers labelled as "China Users" that you need to use when connecting from China). I have experienced this behavior on all of the apps I have used (Android, iOS, and Windows).
You can set the option "I am in China" in the advanced settings to force the "China Users" servers to load, but many of the servers are missing from the list when loaded that way. The only way to get the full China Users server list is by exiting the app and re-starting it (sometimes several times).
The speed of support. VPN.ac doesn't offer live chat support, and they do not have staff available 24/7. As they are based in Romania, they only answer support tickets during Romanian business hours. So you will likely not get an answer until the early afternoon if you submit a support ticket in the morning in China.
The server performance. The server performance used to be really good, but lately the speeds are much slower.
VPN.ac Special Offer
Visit VPN.ac and save 25% off any plan
#5 VPN for China – Surfshark
Surfshark basically no longer works in China with one exception. You can still find some working Shadowsocks servers using the "+1 method" from the Using Surfshark in China guide.
Given the insanely low price of $2.49/month for 2 years, it's worth considering for advanced users who don't mind manually finding the working IPs and setting up Shadowsocks connections. But don't expect the VPN connections to work using the apps.
Surfshark Special Offer
Visit Surfshark and claim the 2 year deal for $2.49/month
#6 VPN for China – VyprVPN
VyprVPN Website (not accessible in China)
Although VyprVPN works in China (using the Chamelon protocol), the performance is very poor. During times of increased VPN censorship, the service often goes down completely for weeks at a time.
What I like about VyprVPN
Not much really. I guess the fact that they have a 30 day money back guarantee so you can try it for yourself risk-free.
What I don't like about VyprVPN
Pretty much everything. Poor performance, fake server locations, no China accessible website, the fact that they used to keep logs and ban accounts for torrenting (they don't anymore but the fact they did before is very concerning).
VyprVPN Special Offer