StrongVPN used to work very well in China many years ago. Unfortunately, that is no longer the case today.
Here is the good news. There are several alternatives to StrongVPN that work better in China.
All of these StrongVPN alternatives come with a money back guarantee so you can try all of them risk-free!
WannaFlix
WannaFlix is not a traditional VPN. They are using a special type of fast proxy called V2ray, which is similar to Shadowsocks. V2ray is much more effective than VPN protocols at bypassing the Great Firewall of China without being detected. The speed and stability is much better too!
For those that like to stream Netflix in China, WannaFlix is a great choice because they offer Netflix streaming servers in 10 different countries. Unlike other slow VPNs, you can actual stream Netflix in high definition from China with WannaFlix.
WannaFlix has a 30 day money back guarantee so you can try it absolutely risk-free.
Special Offer for WannaFlix
30% OFF your first billing cycle (valid for all plans)
Surfshark
Surfshark is another great alternative to Astrill. Although the Surfshark apps don't always work in China, you can always find good servers with manual set up. Surfshark offers both Shadowsocks and OpenVPN for manual connections.
I have written an easy guide on how to set up manual Shadowsocks and OpenVPN connections for Surfshark.
Guide on how to set up and use Surfshark VPN in China
If you invest some time to read the above guide, you will not be disappointed. Although these manual connections are not easy to set up, they are some of the best performing VPN connections for China that you will find anywhere.
The best part about Surfshark is that the price is insanely cheap!
Surfshark 2 Year Deal
Get 2 Years of Surfshark for only $59
Yes, that's right. Only $59 for 24 months. For less than the cost of 6 months of Astrill ($90), you can get an entire 2 years of Surfshark ($59).
Like WannaFlix, Surfshark also comes with a 30 day money back guarantee.
Other StrongVPN Alternatives
Here are some more StrongVPN alternatives that work in China.
Why you should not use StrongVPN in China
The main reasons for not using StrongVPN in China are extremely slow speeds and poor reliability. If you are lucky enough to get a working connection, you will likely be waiting minutes just to load a simple website. Forget about video streaming!
Why is the speed of StrongVPN so slow in China?
It didn't always used to be this way. StrongVPN used to have good servers in Hong Kong with a direct low latency connection to China. Sometime in June of 2017, these good servers were replaced with inferior ones with poor connectivity to China in order to save money.
Here is a speed test done prior to the change.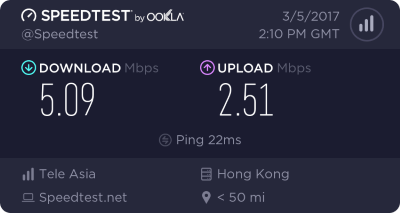 The download and upload speeds are not great (this was tested on a 100Mbps line), the latency (ping) is very good (lower the better for ping time).
Here is a speed test done after the change.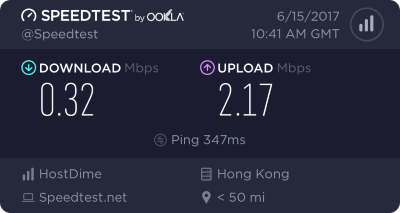 As you can see from the 2 test results before and after this change, the latency went from 22ms (good) to 347ms (very bad).
The reason for this is that the new (cheaper) hosting provider for these servers does not connect directly to mainland China ISPs.
Here is a visual trace route showing how the connection bounces around the globe before reaching China.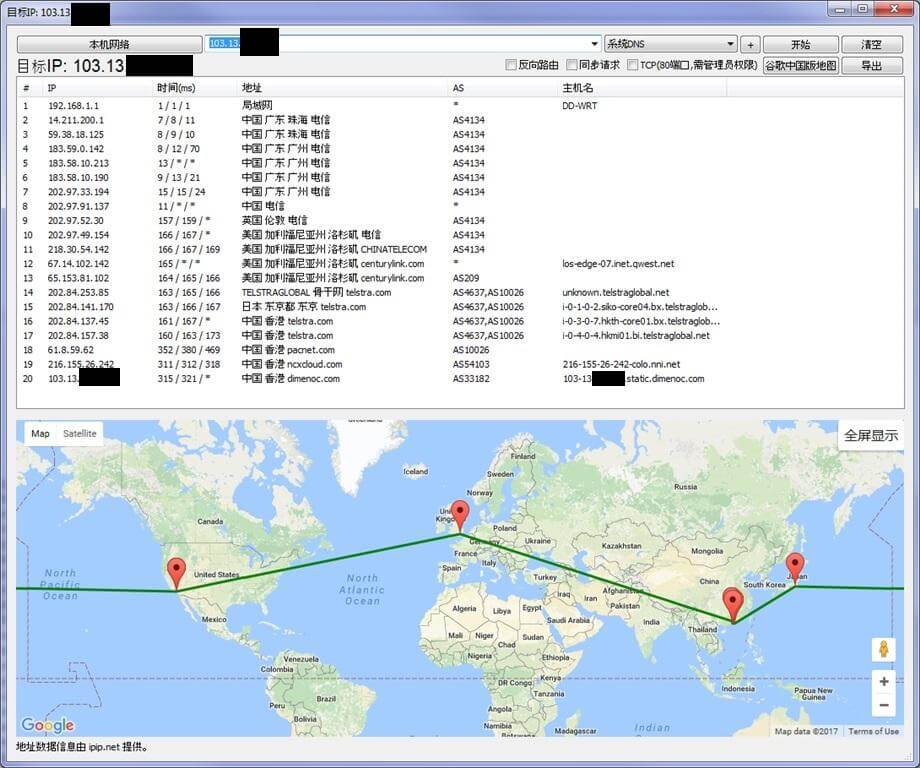 The connection from China is routed through Europe, United States, and Japan before reaching Hong Kong.