Despite what you may have heard, it is still possible to unblock US Netflix from any country with high speed and reliability in 2020.
I will show you step-by-step instructions to easily bypass Netflix "VPN bans" and "proxy errors" with a VPN that still works for Netflix.
The top 3 Netflix VPNs were last tested and confirmed working for US Netflix on:
November 24, 2020
Special Note about China
This page is written for an international audience. The VPNs listed on this page might night work very well in China. If you looking for a VPN that works in China for Netflix, please visit this page instead.
Netflix VPN ban and the Netflix proxy error
In September 2014, Netflix starting actively blocking VPN access to their service after being pressured to do so by the major film studios and content producers. This is because the rights to TV shows and movies are sold on a per-region basis. The copyright holders don't want people streaming their content on Netflix in regions where they did not sell the rights to Netflix to show it.
The proxy error (aka streaming error) is what you will see after trying to load a TV show or movie when Netflix detects that you are using a proxy or VPN.

How to bypass the Netflix VPN ban and proxy error
Netflix cannot block 100% of VPN servers, it is simply not possible. As they try their best to block known VPN server IP addresses, the VPN providers simply add new ones that are not yet blocked by Netflix.
Unfortunately, most VPN providers cannot keep fighting this battle with Netflix because they don't have the resources for it.
Some VPN services may work intermittently or work for a short time, but very few have been reliable at bypassing the Netflix VPN ban over the years.
Why Should You Trust My Recommendations?
Unlike most other "VPN review sites", I only recommend the ones that really work and are reliable for unblocking Netflix with good streaming speed. I personally test the top 3 recommendations almost every day (in addition to my normal Netflix watching using ExpressVPN on my router).
I have tested these VPNs with Netflix in China, Canada, USA, and several other countries.
Whether you are in China, Canada, Russia, Australia, Germany, France, UK, India, Indonesia, Brazil, Pakistan, Nigeria, Bangladesh, Russia, Mexico, Japan, Philippines, Singapore, or any other country outside of USA, my top recommended VPNs are guaranteed to unblock US Netflix with good reliability and high speed.
And I only recommend services that offer either a free trial or money back guarantee. So you can try everything risk-free.
How to get Netflix on Every Device
Beware!
Many VPN and DNS services only work with Netflix on computer browsers. They do not work with Netflix when using the Netflix apps (iOS, Android, Smart TV, Roku, Chromecaset, PS4, etc).
I don't know about you, but I like to watch Netflix on my TV. Not on my computer browser.
My top recommendations work to unblock US Netflix on ALL DEVICES.
#1 Top VPN for Netflix – ExpressVPN

ExpressVPN is rated #1 for 5 reasons
1. High speed. ExpressVPN is one of the only VPN services that can stream Netflix in high speed. You can always watch US Netflix in high definition without buffering if you have a good internet connection. I have tested the streaming speed in several countries including Canada, China, Malaysia, Thailand, Philippines, and Dominican Republic.
The only other VPN that can match the streaming speed of ExpressVPN is VyprVPN.
2. DNS working for all devices. One of the biggest advantages of ExpressVPN is the MediaStreamer DNS. Unlike most other DNS services that only work on computer browsers, it works on all devices.
Here is a video I made showing you how easy it is to set up the MediaStreamer DNS on a PS4.
3. Nice app for routers. ExpressVPN has a very nice router app that easy to setup and use. Check the video below (or tutorial here) for instructions on how I flashed the router app on a cheap router that I plug into my main router.
Instead of using an actual router, you can also use your computer as a virtual VPN router to share your VPN connection with other devices.
3. Reliable and convenient. ExpressVPN is extremely reliable for US Netflix. I use it for US Netflix almost every day and I have not seen the "proxy error" since August, 2016.
Even then, it was fixed within 1 day. Unlike VyprVPN, which often requires re-connecting several times to get a working IP address, ExpressVPN always works on the first connection. No wasting time messing around, just connect to one of the supported servers and start streaming US Netflix.
It's works flawlessly and effortlessly on every device. I have personally tested both the VPN and DNS on a Windows computer, iPad, Android, Apple TV, Roku, Chromecast, and PS4. Although ExpressVPN offers 24/7 support, I rarely need to use it. It is literally the easiest VPN to set up and use that I have ever seen.
As soon as your payment is made, you can start using the VPN or DNS immediately. No need to wait around for any confirmation email, you will see the page shown below with download links and setup instructions immediately after you complete your payment.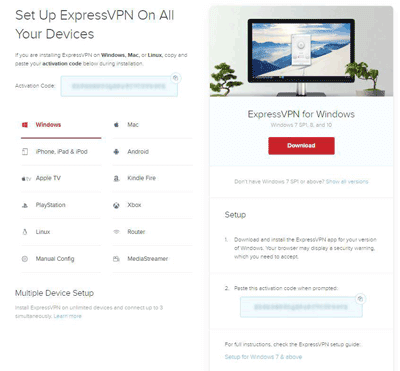 4. Best support. Another big advantage of ExpressVPN is their excellent customer service. They have 24/7 live chat available on their website and they will help you right away if you have any problems with Netflix or any other problems.
If you have any questions about ExpressVPN then you can go to their website right now and ask them! They will answer your questions immediately! Anyone can use the live chat, you don't need to be an existing customer to chat with them.
ExpressVPN offers both pre-sales support and full technical support on their live chat. That is very rare to see.
5. 30 day hassle-free money back guarantee. Try ExpressVPN risk-free for 30 days and see for yourself how good it works with Netflix. The 30 day unconditional money back guarantee applies to all plans. You can cancel within 30 days, regardless of whether you sign up for 1 month, 6 months, or 1 year.
The 30 day money back guarantee is completely unconditional, you can cancel for any reason. Actually you don't even need to give a reason, just cancel it and get a full refund if you are not 100% satisfied.
#2 Top VPN for Netflix – VyprVPN
Although VyprVPN is very reliable and can stream with similar speed as ExpressVPN, there is one major disadvantage to using their service.
VyprVPN has a policy of logging the IP address that you are assigned while connected to their VPN servers. While most VPN services use simultaneously shared IP addresses for anonymity, VyprVPN will assign a unique IP to you each time you connect.
They have been known to use this information to ban accounts for copyright violations (BitTorrent downloads).
If you only need a VPN for Netflix and don't value your privacy, then this shouldn't be a problem for you.
If you want to use a VPN for both Netflix and to protect your privacy, then ExpressVPN and NordVPN are much better choices. Their services are engineered to protect your privacy and anonymity. Server IPs are shared simultaneously with many users (crowd anonymity). And unlike VyprVPN, the IP address assigned to you while using ExpressVPN or NordVPN will not logged.
Because the VyprVPN IP addresses are only assigned to one user at a time, you will be assigned a different IP every time you connect to VyprVPN, even when connecting to the same server.
Some of their IPs are blocked by Netflix, and some are not.
If you are having trouble getting US Netflix with VyprVPN, just keep disconnecting and reconnecting until you get a working IP. You don't normally need to change servers. You can just try again with the same server (but different IP address).
Special offers for VyprVPN
Check the latest special offers here
#3 Top VPN for Netflix – NordVPN
Although it's not my favorite VPN to use because of the poor performance in China, NordVPN does work quite well outside of China.
NordVPN supports Netflix in multiple regions. Currently, the supported regions are USA, Canada, UK, Netherlands, and Japan. Support for Japanese Netflix is quite rare so if you are looking for that then NordVPN is a great choice.
The best thing about NordVPN is the insanely low price. If you pay monthly or yearly, there is nothing special about the price. Quite standard.
The real savings comes when you buy a 3 year subscription.
I found the servers of NordVPN to be hit and miss. If you want the best performance, you really need to try all of the different servers until you find a fast one.
I'm also not a fan of the NordVPN app. I don't know if it's because of have too many different VPN apps on my computer or what the reason is, but the NordVPN app seems cause problems on my computer.
I actually recommend using the open source OpenVPN client with NordVPN rather than their Windows app. For Mac, you could use Tunnelblick. For routers, any router flashed with dd-wrt, Tomato, OpenWRT, etc should work fine (once you find the right server).
#4 Top VPN for Netflix – TorGuard
TorGuard works a little differently than other VPN services for Netflix. Instead of using a shared IP address, you need to buy a dedicated streaming IP address as an additional paid add-on to stream Netflix.
The main problem I have with TorGuard is the deceptive marketing. They want you to believe that a dedicated streaming IP is the only way to unblock Netflix reliably.
That simply is not true. ExpressVPN, VyprVPN, and NordVPN work just fine with shared IP addresses.
If you only need to unblock one Netflix region, then the price for TorGuard is not too bad (if you use the 50% off discount). However, it will be expensive if you want multiple regions because you will need to buy a separate dedicated IP address for each Netflix region you want to access. Dedicated streaming IP addresses are available for USA, Canada, and many other countries.
The cost for the dedicated streaming IP is $8/month ($4/month with 50% discount) in addition to the cost of the VPN package.
To get your dedicated streaming IP address, you need to ask support. It's not the same as the regular dedicated IP address.
Personally, I have tested a USA and Canadian dedicated streaming IP and they both worked fine on all my devices. But I wouldn't say that it works any better or streams any faster than other VPNs that don't require an additional paid dedicated IP add-on. In fact, I found the VPNs to stream faster because they support Netflix on multiple different servers, so you can find one that works best for your location. With TorGuard, you are stuck with what they give you.
Total Price – Monthly (1 Netflix region)
$9.99 (VPN) + $8 (streaming IP) = $17.99 $8.99 after 50% discount ($8.99 per month)
Total Price – 3 Months (1 Netflix region)
$19.99 (VPN) + $24 (streaming IP) = $43.99 $21.99 after 50% discount ($7.33 per month)
Total Price – 6 Months (1 Netflix region)
$29.99 (VPN) + $48 (streaming IP) = $77.99 $38.99 after 50% discount ($6.50 per month)
Total Price – 12 Months (1 Netflix region)
$59.99 (VPN) + $96 (streaming IP) = $155.99 $77.99 after 50% discount ($6.50 per month)
How to bypass the "proxy error" with these VPNs
General Instructions
If you are using an iOS or Android device, make sure that location services are turned off. Otherwise, the Netflix app will detect your real location and you will get the proxy error.
If you get the proxy error and want to try again with another VPN or another server location of the same VPN, you must completely exit the app or browser window before you try again with a different IP address.
Follow this sequence:
1. Close down. After you see the proxy error, close the browser window (if you are using a computer) or completely exit the app if you are using the Netflix mobile app.
To completely exit the app using iOS, you can double click the home button and then swipe the Netflix app off the screen. Similarly, for Android, you also need to bring up the list of running apps and swipe the Netflix app off the screen. The procedure to bring up the list of running apps on Android depends on the phone you are using. For Samsung Galaxy devices, you need to press and hold the home button. For other Android devices, you normally touch the button to the left or right or the home button.
For other devices such as Roku, Chromecast, PS4, Xbox, etc then you will need to restart the device.
2. Disconnect from your existing VPN connection.
3. Re-connect to another VPN or another server location of the same VPN. Or, in the case of VyprVPN, you can just reconnect again to the same server location.
4. Try again. Open Netflix in your browser or launch the Netflix app again on your mobile device.
How to bypass the proxy error with ExpressVPN
ExpressVPN is most simple and hassle-free way to bypass the proxy error. You only need to know which server locations are supported by asking the support via live chat on their website (or by support ticket if you prefer). If you follow the general instructions above and know which server location to connect to then you will not have any problems. It will work every time on every device.
Alternatively, you can use the Smart DNS (MediaStreamer DNS) instead of the VPN with ExpressVPN.
How to bypass the proxy error with NordVPN
Refer to their support page for specific instructions.
How to bypass the proxy error with VyprVPN
For ExpressVPN and NordVPN, you just need to know the general instructions and which server location to connect to for Netflix.
VyprVPN, on the other hand, will require a little bit more work. You can generally use any US server location (but sometimes you may need to re-connect several times to get a working IP).
Netflix for Apple TV, PS3, PS4, Xbox One, Xbox 360, Roku, Chromecast, etc
The easiest and most convenient solution for these devices is ExpressVPN MediaStreamer DNS (included with all subscriptions).
It's the only DNS available that is reliable and consistent for USA Netflix on all devices. Some devices may require static routes, while others do not. In my experience, I have never needed static routes with Apple TV or PS4, but I require them for Roku and Chromecast.
Here are some other solutions to use a VPN on all devices.
Solution #1 – VPN Router
Recommended – ExpressVPN Router App
Solution #2 – Virtual VPN Router (Hotspot)
Simply follow these instructions to set up your computer to share your VPN connection with your Apple TV, Smart TV, PS4, etc via WIFI hotspot.
Netflix VPN for non-US regions
Recently, I have added other supported regions to the comparison table at the top of the page. I don't test these regions every day as I do for US Netflix, so please let me know if there are any errors in that table.
If you are looking for a specific region that is not supported by ExpressVPN or NordVPN, you can check if TorGuard has a dedicated streaming IP address available for that specific region.
Static Routes for Smart DNS
Some of Netflix apps for some devices have hard coded DNS servers and will not work with Smart DNS services unless you set static routes in your router. In my experience using ExpressVPN MediaStreamer DNS, Roku and Chromecast require these static routes while most other devices do not. If your router does not allow you to set static routes then it's recommended to use Apple TV because it generally does not require these static routes.
This does not apply to VPN connections, only DNS. VPN connections do not require this.Set the following static route settings in your router.
If you have an option for WAN or LAN, you must choose LAN.
If you have an option for metric, enter 2.
Destination IP: 8.8.8.8
Subnet Mask: 255.255.255.255
Gateway: your router IP
Destination IP: 8.8.4.4
Subnet Mask: 255.255.255.255
Gateway: your router IP
Normally you only need the above 2 static routes but if that doesn't work you can also try adding the following static routes.
Destination IP: 108.175.32.0
Subnet Mask: 255.255.240.0
Gateway: your router IP
Destination IP: 23.246.0.0
Subnet Mask: 255.255.192.0
Gateway: your router IP
Destination IP: 45.57.0.0
Subnet Mask: 255.255.128.0
Gateway: your router IP
Destination IP: 185.2.220.0
Subnet Mask: 255.255.252.0
Gateway: your router IP
Destination IP: 198.38.96.0
Subnet Mask: 255.255.224.0
Gateway: your router IP
Destination IP: 198.45.48.0
Subnet Mask: 255.255.240.0
Gateway: your router IP
Destination IP: 64.120.128.0
Subnet Mask: 255.255.128.0
Gateway: your router IP
Destination IP: 64.197.128.0
Subnet Mask: 255.255.128.0
Gateway: your router IP
Destination IP: 37.77.184.0
Subnet Mask: 255.255.248.0
Gateway: your router IP
I tested an old TP-LINK router connected as subnet of my main router for testing Smart DNS. Here is a screenshot showing my setup. My router IP (default gateway) is 192.168.20.1 for this router.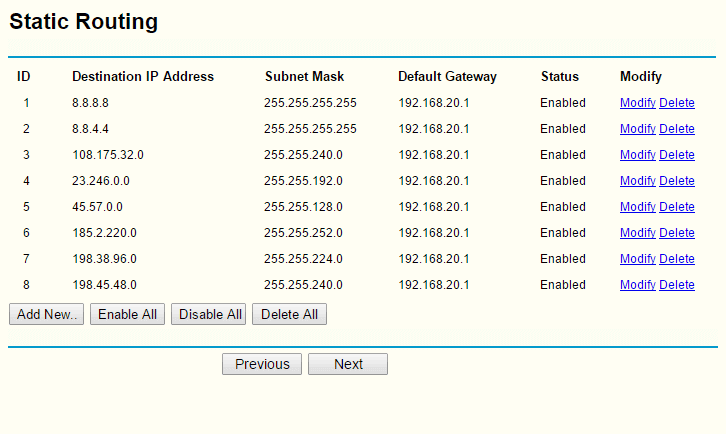 Static Routes Alternative for D-Link Routers
Recently, I tested an old D-link DIR-601 router with ExpressVPN MediaStreamer DNS with static routes.
The problem is that this firmware does not have the option to set a static route on the LAN (only WAN option is available). Luckily, there is another solution.
You can block Google DNS with Access Control instead.
You can find the Access Control option under the Advanced Tab. Click the box to enable Access Control and then click the Add Policy button.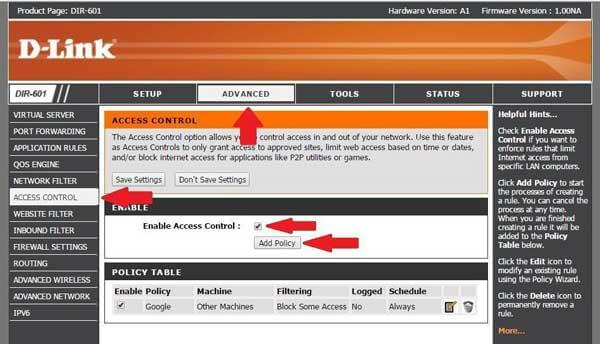 Make the following settings.
STEP 1:
Policy Name: Choose any name
STEP 2:
Choose a schedule to apply to this policy: Always
STEP 3:
Address Type: Other Machines
STEP 4:
Method: Block Some Access
Apply Web Filter: Unchecked
Apply Advanced Port Filter: Checked
STEP 5:
Set the 2 rules as shown below for 8.8.8.8 and 8.8.4.4.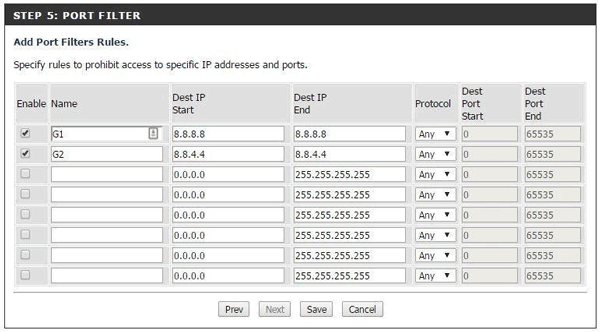 Static Routes Alternative for dd-wrt Flashed Routers
If you have a newer version of dd-wrt, there is an option available called "Forced DNS Redirection."
This will force all DNS requests to go through your specified DNS servers.
For Static DNS 3, you can enter 10.0.0.0 or another non-reachable address. Do not leave it as 0.0.0.0, otherwise it will use your ISP DNS as DNS 3 and you may get a proxy error if your ISP DNS replies faster than DNS 1 and DNS 2.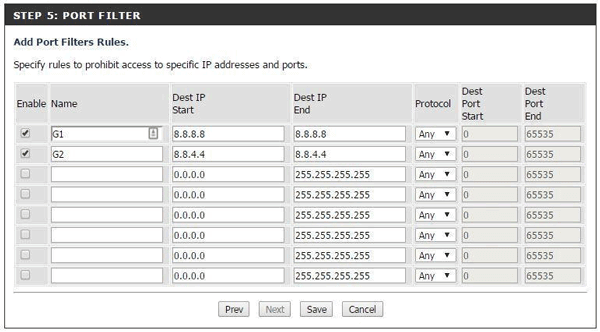 Netflix Streaming Speed Tests
I have done an extensive test to measure the specific streaming speeds for Netflix through different VPNs.
Check the Netflix streaming speed tests here.
Final Note
I don't encourage anyone to use any VPN service as a means of copyright circumvention. Please make sure to read the Terms of Service (TOS) of your VPN provider and the Netflix Terms of Use.