Step-by-step instructions to flash the ExpressVPN router firmware app on a cheap Linksys EA6200/XAC1200 router available on Taobao or eBay.
March 2019 Update
ExpressVPN has released a new v2 router app that might offer better connectivity for users in China.
If you are having trouble connecting in China, you can ask the live chat support on the ExpressVPN website for the new v2 beta version.
Currently, both versions are working for me.
The EA6200/XAC1200 doesn't seem to be available on Taobao these days. If you are looking for a cheap router, I suggest the Netgear R6300v2. I purchased one on Taobao for around 300 CNY and it's working quite well. However, please note that if you get the "Charter version" of the R6300v2, there is no v2 beta router app available for it. If you do have this version, I did find a workaround to install the v2 beta router app.
If you want something more high-end, I recommend the Netgear R7000, Linksys WRT1900ACS or WRT3200ACM.
Maybe you would like to use ExpressVPN to watch Netflix in China on your PS4, Xbox, Roku, Chromecast, Smart TV, or other streaming devices?
Or, perhaps you want to use the best vpn for China on your gaming console?
Or, maybe you just prefer to connect all your devices but without running VPN apps that drain your battery and reduce performance on your computer or smartphone?
Although you can use a computer as a virtual VPN router, a dedicated VPN router is a much better solution.
This tutorial will show you step-by-step instructions to flash the ExpressVPN router firmware app on a cheap Linksys EA6200/XAC1200 router available on Taobao or eBay.
Although this tutorial is for the Linksys EA6200/XAC1200, the steps are similar for the other supported routers.
If you want a higher end router and are willing to spend more money, I highly recommend the Linksys WRT1900ACS or Linksys WRT3200ACM. These routers are very good quality.
Where to buy a cheap EA6200 in China?
If you are in China, there are a few Taobao sellers offering second-hand XAC1200 routers for around 180 CNY.
According to these sellers, the XAC1200 has the same hardware as the EA6200 and it can flash the same firmware. I have confirmed this to be true by purchasing one and flashing the EA6200 ExpressVPN router app firmware myself.
Here is the link to the one I bought (price was 180 CNY, may change in the future).
July 2018 Update – I can now only find 1 seller on Taobao that has this router for sale. Here is the link. I would buy it sooner rather than later because I don't know any other place you can buy it in China.
The last seller on Taobao with XAC1200
If you find any others, please leave a comment below.
Where to buy a cheap EA6200 outside of China?
Note – The EA6200 is sometimes referred to as AC900. Anything labelled as Linksys EA6200, AC900, or XAC1200 should work.
VPN router connection method
For this tutorial, I will connect the EA6200/XAC1200 VPN router as a sub-network from my main router. This is the best way to connect a VPN router. Then, you have 2 networks that you can connect to. One network without VPN and a second network with VPN.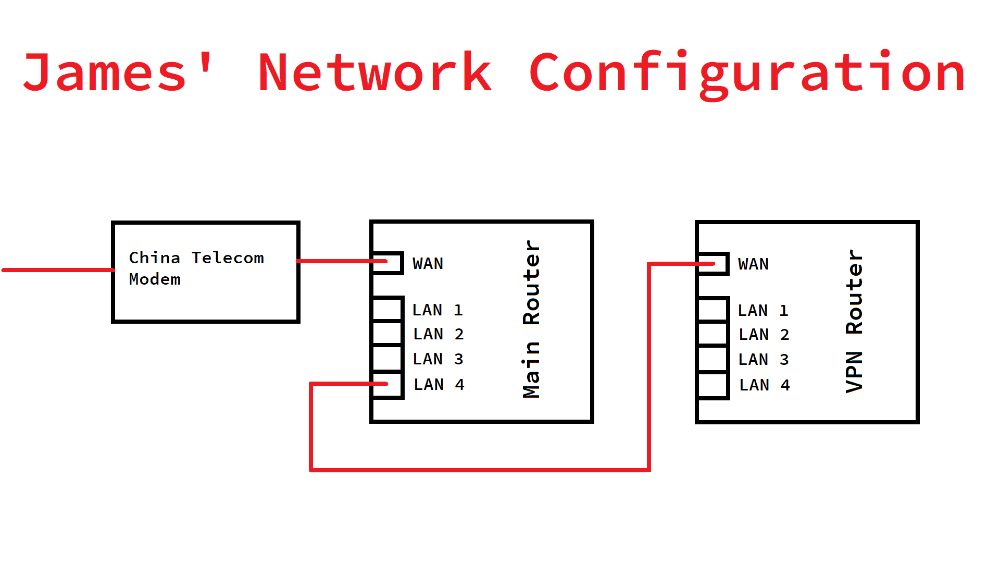 Note – Make sure that the router IP of your VPN router is on a different subnet than your main router. For example, my main router IP is 192.168.1.1. By default, the ExpressVPN router app firmware assigned itself the IP address 192.168.22.1, which is fine. If you are using another firmware such as Tomato, DD-WRT, OpenWRT, Merlin, etc then you will likely need to change the default gateway IP from 192.168.1.1 to 192.168.x.1, where x is a number between 1 and 255 that is different from any other routers or gateways in your network.
How to flash the ExpressVPN firmware
Step 1 – Sign up for ExpressVPN if you don't already have an account. There is a 30 day money back guarantee on all plans, so you can try it risk-free.
Special Offer – Sign up using this link and get an additional 3 months free with a 12 month subscription!
Step 2 – Download the ExpressVPN router app firmware from device set-up page on the ExpressVPN website (there is a direct link in your confirmation email).
Step 3 – Connect the EA6200/XAC1200 to your computer by LAN cable from any one of LAN ports on the router to the LAN port on your computer. Do not flash firmware using Wi-Fi.
Step 4 – Disable your Wi-Fi adapter and make sure that your Ethernet adapter is enabled. To open the network adapters in Windows 7/8/10, you can press Win key + R and then type "ncpa.cpl" (without quotes) in the run dialog.
Step 5 – Enter 192.168.1.1 in your web browser.
Step 6 – Enable both of the 2 options:
"I have read and accepted the License Terms for using this software"
"I want to skip setup and configure my router manually"
Then, click "Next" button.
Step 7 – When you get the message "Internet connection is down", press the "Login" button on the bottom right.
Step 8 – Enter the default password "admin" (without quotes) and and then click "Sign in".
Note – Other models of Linksys routers have different default passwords. For example, my WRT1900ACS has a unique default password that is printed on the label of the router.
Step 9 – Under the heading "Router Settings" on the left, click on "Connectivity."
Step 10 – Under the text "Router Firmware Update" on the right side, find the second box below it with the text "Manual". Click the "Choose File" button and then select the file that you downloaded in step 2.
Step 11 – After the file is selected, click the "Start" button to start flashing the firmware. Press "Yes" to continue when asked. Wait for the message that your router will reboot and press "Ok".
Step 12 – Wait for the ExpressVPN router interface to load. This should happen automatically within a few minutes of your router rebooting. If this doesn't happen, then you can enter http://expressvpnrouter.com in your browser.
Step 13 – Login with the same default password of "admin" and then choose "Enable internet without VPN".
Step 14 – Set your desired Wi-Fi and other router settings. Change the SSID (Wi-Fi network name) for the 5Ghz and 2.4Ghz channels, set the Wi-Fi passwords, change the default router password from "admin" to something else, etc.
Step 15 – Open your network adapters again and enable your Wi-Fi adapter and then connect to the router by Wi-Fi to confirm that you can connect (you will still not have access to the internet yet, just confirm that you can make the connection by Wi-Fi).
Step 16 – Connect the router to your main router as shown in the diagram near the top of this page (connect LAN cable from any spare LAN port on your main router to the Internet / WAN port of the VPN router).
Step 17 – Now your VPN router has an internet connection (from your main router). You can now log into the interface again at http://expressvpnrouter.com and paste your activation code from your account set-up page (the page where you downloaded the firmware in step 2).
Step 18 – After you have activated, the router should connect automatically to a "recommend" location. You can change this to your desired server location and change the VPN protocol between UDP and TCP if desired.
Step 19 – Connect your devices to your new VPN Wi-Fi network (or connect by LAN cable to the VPN router) and enjoy VPN on all devices without running any VPN apps.