Here is a list of good alternatives to Astrill VPN that work well in China. Unlike Astrill VPN, which does not offer a money back guarantee for users in China, all of these VPNs for China come with a money back guarantee so you can get a full refund if you are not satisfied.
WannaFlix
WannaFlix is not a traditional VPN. They are using a special type of fast proxy called V2ray, which is similar to Shadowsocks. V2ray is much more effective than VPN protocols at bypassing the Great Firewall of China without being detected. The speed and stability is much better too!
For those that like to stream Netflix in China, WannaFlix is a great choice because they offer Netflix streaming servers in 10 different countries. Unlike other slow VPNs, you can actual stream Netflix in high definition from China with WannaFlix.
WannaFlix has a 30 day money back guarantee so you can try it absolutely risk-free.
Special Offer for WannaFlix
30% OFF your first billing cycle (valid for all plans)
Surfshark
Surfshark is another great alternative to Astrill. Although the Surfshark apps don't always work in China, you can always find good servers with manual set up. Surfshark offers both Shadowsocks and OpenVPN for manual connections.
I have written an easy guide on how to set up manual Shadowsocks and OpenVPN connections for Surfshark.
Guide on how to set up and use Surfshark VPN in China
If you invest some time to read the above guide, you will not be disappointed. Although these manual connections are not easy to set up, they are some of the best performing VPN connections for China that you will find anywhere.
The best part about Surfshark is that the price is insanely cheap!
Surfshark 2 Year Deal
Get 2 Years of Surfshark for only $59
Yes, that's right. Only $59 for 24 months. For less than the cost of 6 months of Astrill ($90), you can get an entire 2 years of Surfshark ($59).
Like WannaFlix, Surfshark also comes with a 30 day money back guarantee.
Other Astrill Alternatives
Here are some more Astrill alternatives that work in China.
Why you should not use Astrill VPN in China
Personally, I have not tested or used Astrill VPN in China since 2016 when my affiliate account was mysteriously deleted without notice. So I couldn't tell you how well it's working in China right now.
The reason I suggest staying away from Astrill is that I don't think it's a reputable company based on the way they treat their customers and affiliates.
Here are various screenshots taken from around the web that showcases some of the concerns about Astrill.
This one is particularly concerning. It was posted on Reddit by someone claiming to be a former employee of Astrill.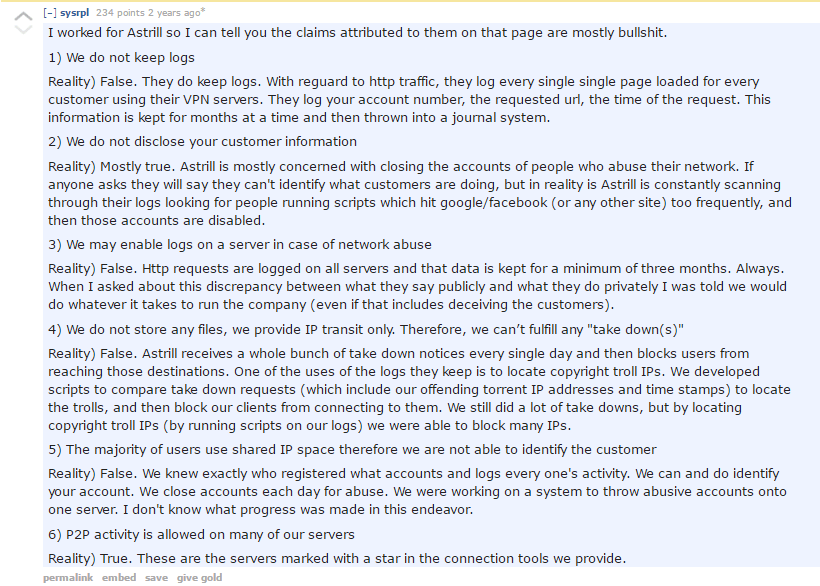 The poster later deleted this comment some time after the above screenshot was taken. The original comment can still be found on Internet Archive.
Here are some more random snippets from around the web that I found in 2016 when I started doing more research into Astrill.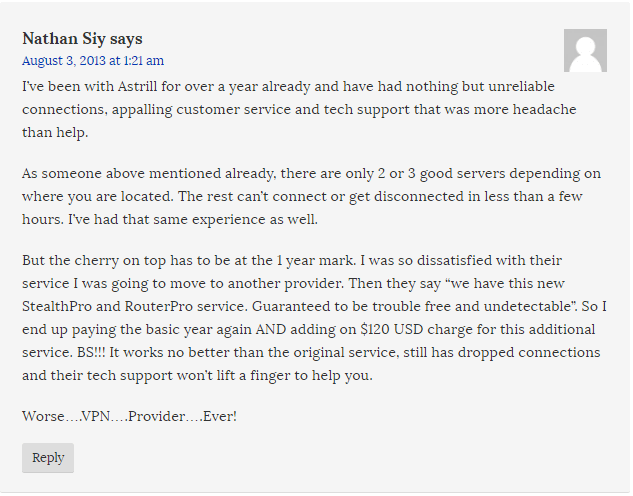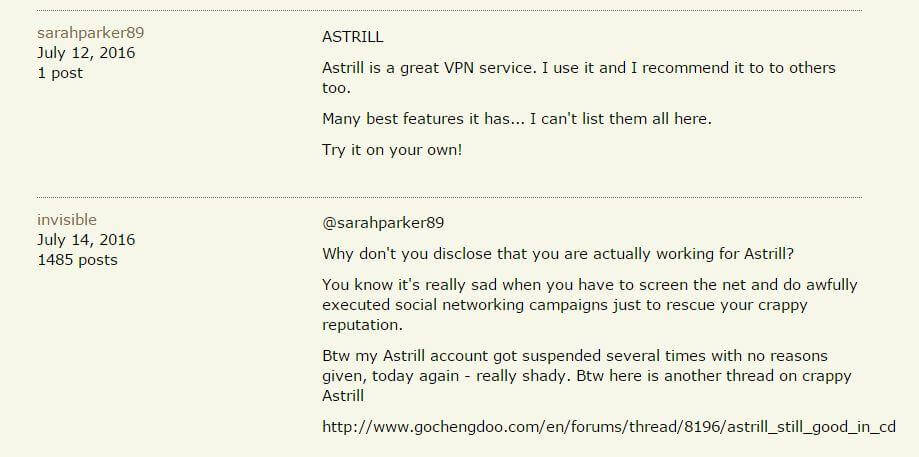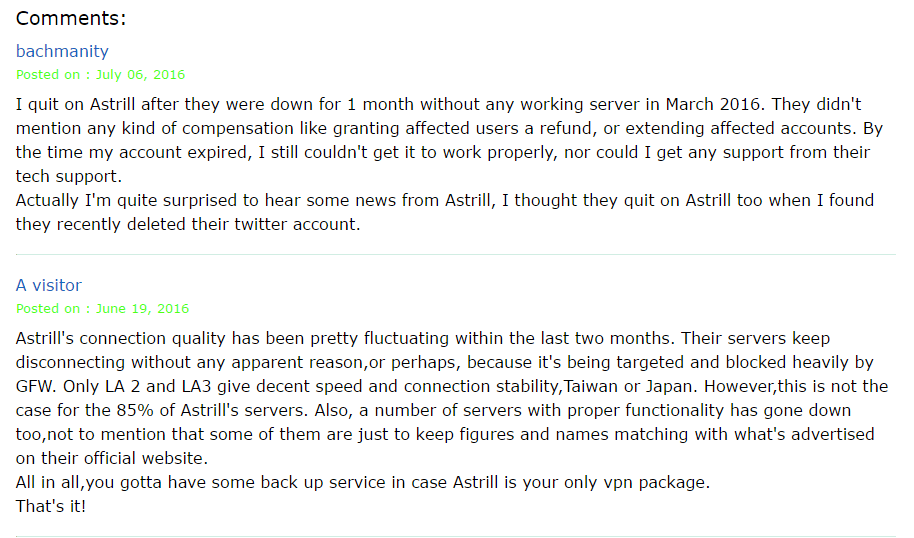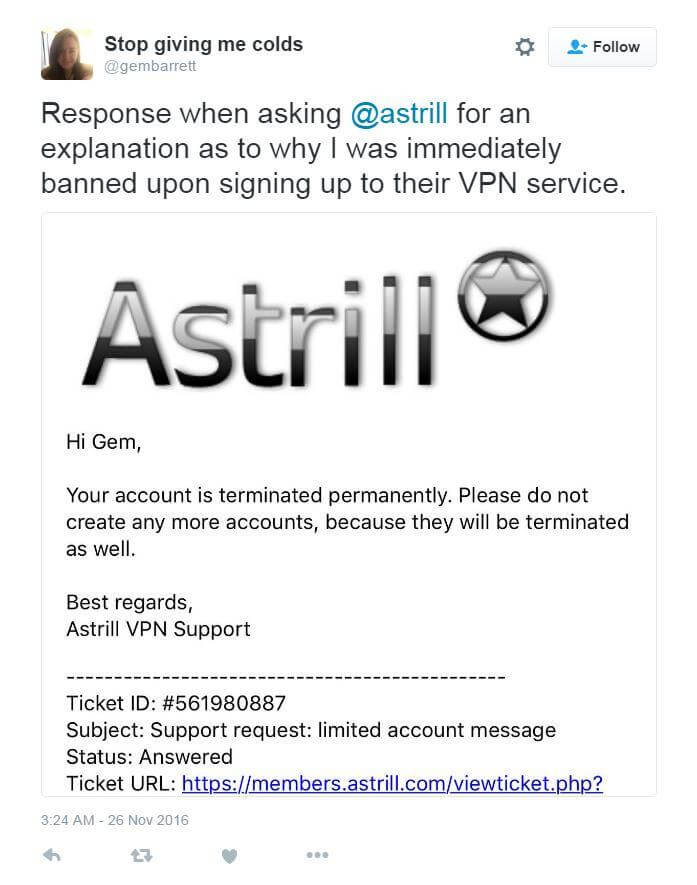 If you want to find more recent complaints about Astrill VPN, look around on Reddit, Twitter, Facebook, etc. But be careful of shill accounts that praise Astrill in ways that seem unnatural.