Aliyun starter packages used to be a great way to get a 30Mbps CN2 server in Hong Kong or Singapore for a very reasonable price. Unfortunately, these starter packages are no longer available as of July 1, 2020.
Instead, Alibaba Cloud is now offering a similar package with free data transfer called SAS (Simple Application Server). However, the SAS does not offer CN2 routes, even in Hong Kong and Singapore. If you buy an SAS package, you will likely get an IP address range of 8.210.x.x.
How to get CN2 server on Alibaba Cloud
If you want a CN2 line, you will need to get a pay as you go or monthly subscription server. But even then there is no guarantee you will get a CN2 server. I tested some hourly billed servers in HK recently could not get a CN2 IP. However, I was able to get a CN2 with an hourly billed server in Singapore. Data cost in Singapore is $0.081/GB.
Please leave a comment below if you have recently purchased an Aliyun server and let us know if you get a CN2 or non-CN2 IP address.
Setting up a Shadowsocks server on Alibaba Cloud (aka Aliyun) is a little complicated. But there is a much easier way!
Alternative Method for CN2 Hong Kong Servers
If you want to use a Hong Kong CN2 server, there is a much easier way.
WannaFlix has several CN2 servers using V2Ray (even better than Shadowsocks).
Just subscribe to WannaFlix and use one of the China Users Hong Kong servers. It's much cheaper than hosting your own Aliyun server. And you don't need to worry about the IP address getting blocked! Let WannaFlix worry about that.
Use the Tips for China Coupon code for WannaFlix and save 30% off any plan! Comes with a 30 day money back guarantee too.
Special Offer for WannaFlix
30% OFF your first billing cycle (valid for all plans)
If you prefer to host your own server, here is what you need to know.
There are 2 billing options for Aliyun servers.
I believe that option #1 requires you to use a credit card that was issued outside of China. I think option 2 is now available with only a PayPal account (but I could be wrong, it's hard to keep up with the always-changing rules of Aliyun).
Option #1 – "Pay as you go" (billed hourly + data)
Instance Type: ecs.t5-lc2m1.nano
Maximum port speed: 100Mbps
Price (Hong Kong): $0.019/hour + $0.153/GB
Price (Singapore): $0.019/hour + $0.081/GB
Option #2 – "Subscription" (billed monthly + data)
Instance Type: ecs.t5-lc2m1.nano
Maximum available speed – 100Mbps
Price (Hong Kong): $4.87/month + $0.153/GB
Price (Singapore): $4.87/month + $0.081/GB
Instance Type: ecs.t5-lc2m1.small
Maximum available speed – 200Mbps
Price (Hong Kong): $7.41/month + $0.153/GB
Price (Singapore): $7.41/month + $0.081/GB
General Tips for Aliyun
1. Sign up using my referral link for $20 of free cloud credits!
2. Make sure you are connected to a VPN or another proxy before going to the Aliyun website. If you access the website using a Chinese IP address, then you will get the Chinese domestic version of the website. The domestic version is completely different and does not offer English language. If you already have a VPN on and still get the domestic version login page, you can manual select the international version from the selector on the top of the page.
3. You can change the IP address of your server up to 3 times within the first 6 hours.
If you get an IP address that is already blocked in China when you create your ECS, you will need to change it before the server is 6 hours old. To change your IP address, you first need to stop the ECS. Then, you can change it through the "More" menu.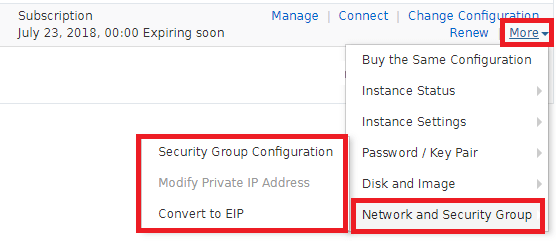 You can't see the option in my screenshot above because my server is older than 6 hours. Within the first 6 hours, you should see an option called "Change public IP" or similar.
4. Many people send me emails asking why Aliyun is not working for them. The most common cause is probably due to a firewall system that is set up through the web interface.
The setting you need to find is called "Security Group Configuration". You can find it on the main ECS page under the "More" option. Make sure that the necessary inbound and outbound ports are open. Or, open all ports as per below settings.

Authorization policy: Allow
Protocol Type: All
Port Range: -1/-1
Authorization Type: Address Field Access
Authorization Object: 0.0.0.0/0
Priority: 110

Same settings for both inbound and outbound.

Or, for better security, just open the ports that you need.
5. When launching your ECS, disable the option for "server guard" or "security enhancement". I suspect this is the reason why some people can't get their servers to work, although I'm not sure. This option was not available previously when I tested some servers on Aliyun.
If want to share your experiences with Aliyun, please leave your comments below.