The latest VPN speed test results and tips for using a VPN in China in 2023.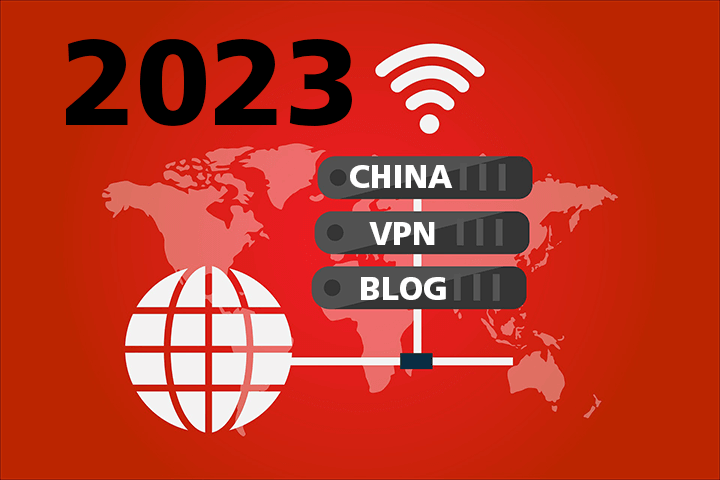 All testing is done on a cloud computer in Shenzhen with a China Telecom 100Mbps connections unless stated otherwise.
June 14, 2023 – Surfshark vs VPN.ac vs WannaFlix
Hello and welcome back to the Tips for China VPN testing blog. It's been almost 2 years since my last update!
I am going to start off with Surfshark, VPN.ac, and WannaFlix because these are the VPN services which work in China that I still have an active subscription to. I will try to test more VPN providers in the near future.
I have been testing these 3 extensively over the past few days and have selected the best working servers for each.
Surfshark
Surfshark is still working good with manual OpenVPN connections but I didn't have much luck using the Windows app. My friend reported that the Surfshark iOS app is working good in China and he is able to connect to most of the same locations as my manual connections by using the app. Your results may vary depending on which device you are using but you can always find good connections with manual OpenVPN. Check my guide below on how to set this up on Windows, Mac, Android, and iOS.
How to set up Surfshark manual OpenVPN connections for use in China
The best working server I can find these days is South Korea. Very decent ping time and good download speed as well.
Surfshark South Korea – Manual OpenVPN UDP – IP 61.255.174.29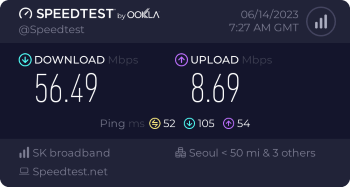 Taiwan is working with a few IPs but it's not a very stable connection. Sometimes it's fast and sometimes it's slow. At the moment it's working pretty good.
Surfshark Taiwan – Manual OpenVPN UDP – IP 45.144.227.28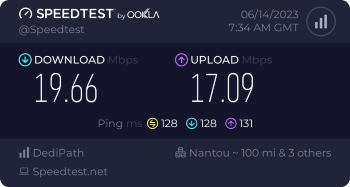 Tokyo has many working IPs but the connection is not great on China Telecom (high ping time for an Asian server). China Mobile and China Unicom users may have better results on this server.
Surfshark Tokyo – Manual OpenVPN UDP – IP 89.187.160.132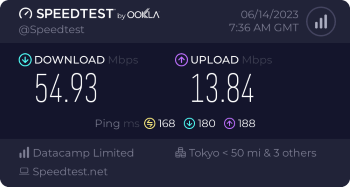 The Vancouver server actually works very well and has been extremely stable throughout the day and night.
Surfshark Vancouver – Manual OpenVPN – IP 66.115.147.82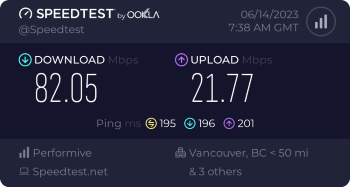 The Seattle server is not bad either. The speed is a bit lower than Vancouver but the ping time is a little bit better.
Surfshark Seattle -Manual OpenVPN UDP – IP 138.199.12.57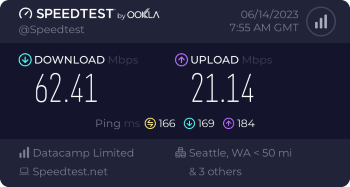 Some of the Surfshark apps might not work very well in China but if you put in some work setting up manual connections, it is one of the best value VPNs that work in China.
Surfshark is currently offering an additional 2 months free on top of the 2 years for $59.76.
Surfshark 2 Year Deal
Get 2 Years of Surfshark for only $59.76 + 2 Additional Months FREE
VPN.ac
VPN.ac is an old favorite around here but unfortunately it's not working very well these days. Most of the servers do not work in China with 1 notable exception.
VPN.ac Taiwan – Windows App – OpenVPN XOR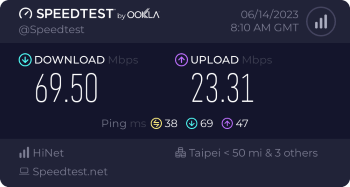 NOTE – Using the VPN.ac Windows app, I found that if I choose this Taiwan server from the normal list instead of the China optimized list in the VPN.ac app, then I can connect using the default port for OpenVPN XOR. However, if I choose Taiwan from the China optimized list, it doesn't work with the default port but works with some of the other ports.
My friend is using the VPN.ac iOS app and he says this Taiwan server has been very stable and has been working all throughout this year without ever getting blocked. However, he says it's the only server that will connect using the VPN.ac iOS app.
The iOS app uses a specific protocol, I think it's IKEv2. As the Windows app has more options for different protocols, I was able to find a few more working servers. However, they don't work as well as the Taiwan server. The only one worth mentioning is Los Angeles 5 (CN2).
VPN.ac Los Angeles 5 (CN2) – Windows App – OpenVPN XOR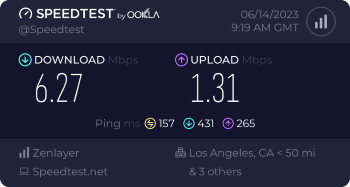 If you want to try VPN.ac, the 25% discount for Tips for China visitors is still valid.
Special Offer for VPN.ac
25% off your first billing cycle (valid for all plans)
WannaFlix
I saved the best for last. WannaFlix is working very good these days!
WannaFlix – China Daily Usage #1 – V2ray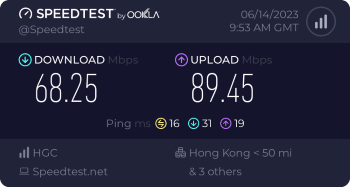 Wow, I haven't seen a ping time that low in a very long time!
I remember a few years ago the WannaFlix China Daily Usage servers had very high ping times. It looks like that has improved drastically.
WannaFlix – China Daily Usage #2 – V2ray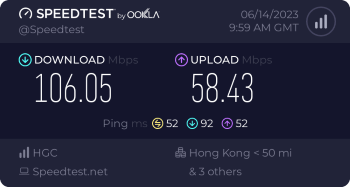 WannaFlix – China Daily Usage #3 – V2ray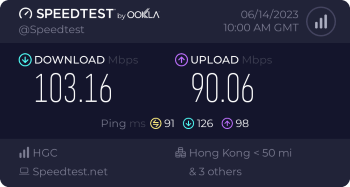 WannaFlix – China Daily Usage #4 – V2ray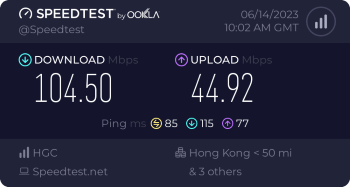 The China Daily Usage servers are optimized with domestic relay servers to improve connectivity. You may get better ping times with different servers depending on your location in China. For Guangdong province, the best latency is with China Daily Usage #1.
Here are a few other Wannaflix servers with good performance.
WannaFlix China US Los Angeles Netflix- V2ray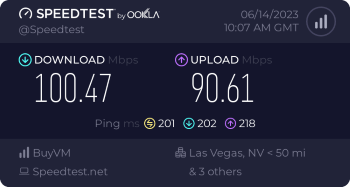 WannaFlix China UK Netflix / BBC iPlayer – V2ray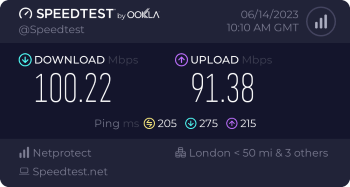 As you can see WannaFlix is maxing out my 100Mbps connection on almost every server!
WannaFlix is still offering the very generous 30% off discount for Tips for China visitors. That brings the cost down to $58.72 for 1 year which is very good considering the performance of the servers.
Special Offer for WannaFlix
30% OFF your first billing cycle (valid for all plans)
July 26, 2023 – Surfshark IPs Blocked
I have read some comments recently about Surfshark IP addresses being blocked in China. Indeed, almost all of them seem to be blocked.
So far I have only found 1 working IP address using my special method of finding working IPs.
Surfshark Tokyo – Manual OpenVPN UDP – IP 154.47.23.100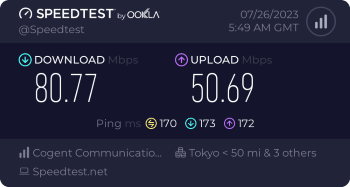 I also found a special link for the Surfshark website that will generate custom config files specifically for China.
https://my.shark-china.com/vpn/manual-setup/main/openvpn?restricted=&country=CN
You must be logged into your account before you use the above link. First, log in using the special China link. Then copy the special link above and paste it into your browser.
Unfortunately I didn't have much luck with these special configurations. There are currently 4 locations with special config files. For each location there is a UDP and TCP config file, each with a different IP address. There is also another IP address displayed on the same page where you download the config files from, which is different from the IP addresses in the config files. None of the config files worked directly, but I was able to connect to the UK location using the IP address shown.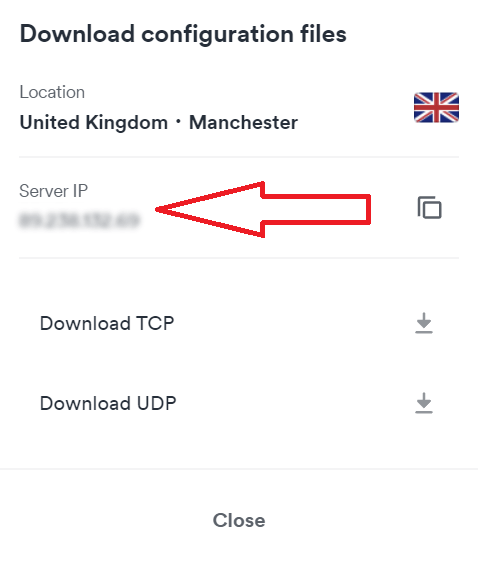 I will not post these IP addresses here because I'm not sure if they are giving different IP addresses to different accounts.
However, the speed was not good.
Surfshark UK Manchester – Manual OpenVPN UDP – IP from special link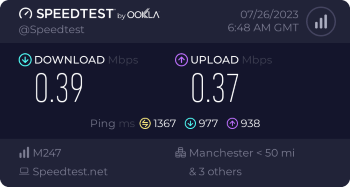 The config files for Surfshark using that special link are supposed to be updated every 24 hours. It's recommended to save that link and check it every 24 hours if you cannot find working IPs on your own.
For now, the Japan IP I found seems to be working well. So far I have checked all IPs for Seattle, Vancouver, and Tokyo and only found that one working IP in Tokyo. I will check more locations when I have time. If you find anything good, leave your comments below.