Important Update (2021)
This article was originally published in 2016 when VPN.ac did not have an iOS app available. VPN.ac now has an iOS app, which is also now the only way to connect to VPN.ac in China.
VPN.ac no longer allows OpenVPN connections from China. If you are outside of China, then you can follow this guide for VPN.ac manual OpenVPN on iOS.
If you are in China or planning to use VPN.ac in China, then these instructions will not work for you. You must use the VPN.ac dedicated apps to connect from China currently.
I will leave this guide up for people outside of China who may want to use manual OpenVPN connections instead of the VPN.ac app.
If you are looking for a VPN provider that works with standard OpenVPN in China, I recommend trying Surfshark following this guide.
Step 1 – Load this page that you are viewing now (www.tipsforchina.com/vpnacios.html) on your iPhone or iPad using the Safari browser.
Step 2 – Download the OpenVPN Connect App by OpenVPN Technologies.
Step 3 – Open the VPN.ac repository page using the iOS Safari browser. You can find the repository page by clicking the link on the iOS OpenVPN Connect Guide page. To find the page, log into your account first on the VPN.ac website and then click on the link that says Apps & Guides. Once you are in Apps & Guides, find the link for OpenVPN Connect under iOS Tutorials, as shown below.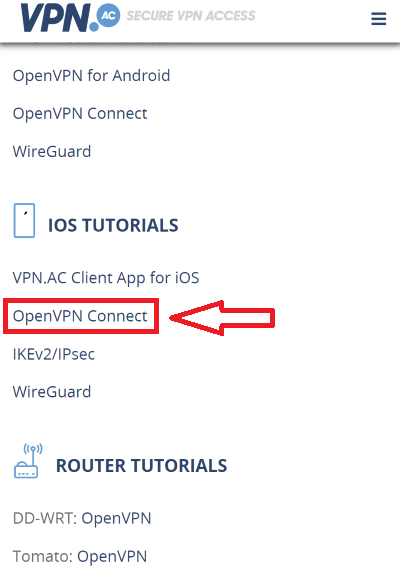 On the OpenVPN Connect page, you should see a link to the repository to download the OpenVPN config files.
Step 4 – Download some .ovpn config files from the repository. The files are organized in folders based on encryption and UDP/TCP.
Tap your preferred file to download it and then choose the option "Open in OpenVPN"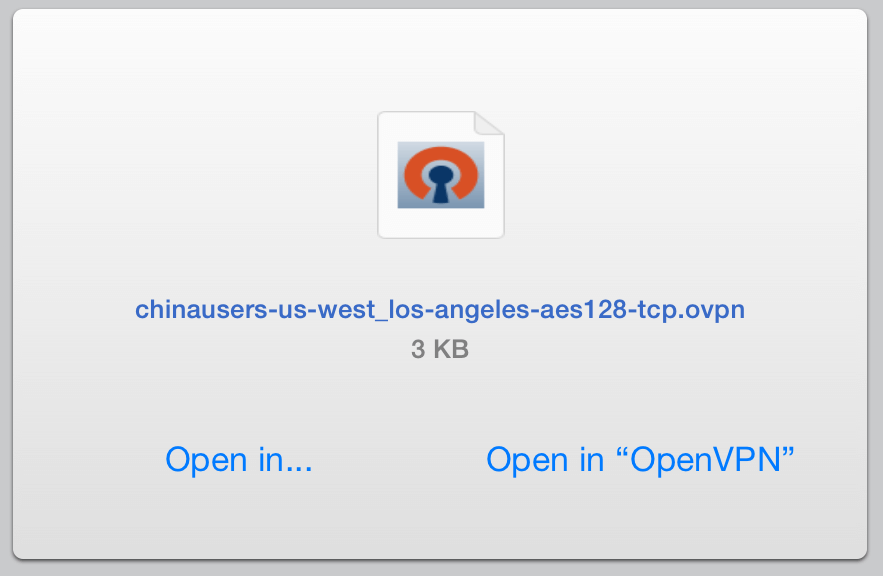 Step 5 – Click the green symbol with a plus sign to import the profile into OpenVPN Connect.

Step 6 – Enter your VPN.ac User Name and Password and then connect by touching the toggle switch.